It's a 4A four-peat for St. James Academy volleyball seniors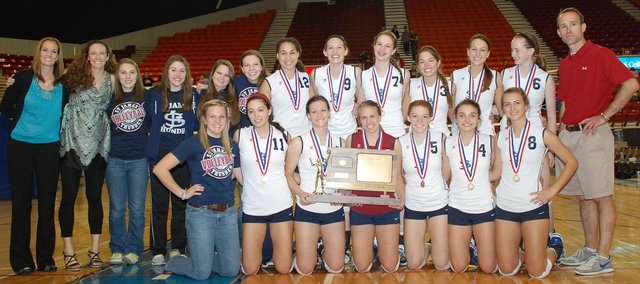 Salina — Losing was not an option for the St. James Academy volleyball team and its six seniors Saturday at the Class 4A state tournament at the Bicentennial Center.
Photo Gallery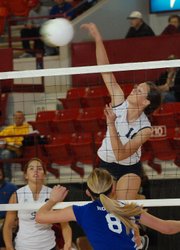 St. James volleyball completes 4-peat
Not after they'd brought home three previous state championships.
A fourth straight title was the only acceptable ending in the Thunder's minds, and they made certain nobody — whether it was semifinal victim Holton or championship opponent McPherson — would spoil their plans.
The Thunder had no trouble with their pool play opponents Friday as they beat Ottawa (25-9, 25-7), Cheney (25-9, 25-10) and Chanute (25-8, 25-13).
St. James cruised past Holton 25-14, 25-14 in the semifinals Saturday and then clobbered McPherson 25-10, 25-13 in the finals to close out a 45-1 season and end the careers of seniors Paige Brown, Katie Dulek, Dallas Gardner, Kayla Guyot, Annie Reilly and Sheridan Zarda.
"I think we were all just ready to go out in style," said Brown, who paced the St. James offense with 100 assists and five aces during the tournament. "We've had four state titles in our class, and we've got fourth in the nation (in 2009), first in the nation (in 2010) and we'll probably end up fourth or fifth this year, so that's a lot to accomplish. But winning a state championship is what the season's all about and the best you can do is win four state titles, so that's exciting."
This title run was St. James' most dominant state tournament performance since its initial championship in 2008. That squad, still angry after falling in the 2007 state finals to Topeka Hayden, took out its vengeance on Hayden in the finals to close out a 45-1 season. St. James beat Hayden again in the 2009 and 2010 finals.
Still, as lopsided as the scores were in each of St. James' five state matches this year, sophomore left-side hitter Arianna Person insisted it wasn't easy.
"A lot of things were going our way, but I think it's mostly because of the chemistry on our team and the girls on the court," she said. "We were just working very well together. It might be perceived as easy, but everyone was working really hard."
St. James boasted some flashy offensive numbers, such as Reilly's team-best 30 kills and Person and Guyot's 29 kills, but it was the Thunder's defense that truly stood out. Holton forced numerous lengthy volleys during the semifinal match, and the Wildcats overcame an 8-2 deficit in game one to bull within 11-8 at one point, but St. James used a solo block by Reilly and combo blocks from Gardner and Dulek, as well as numerous digs from Zarda and Reilly, to extend points until the Thunder could capitalize.
St. James scored six points off of blocks in game two against Holton, and three more on aces courtesy of Reilly's vicious jump serve.
Zarda finished the tournament with a team-best 54 digs, Reilly had 36 and Brown chipped in 20. Meanwhile, Dulek posted a team-high 11 solo blocks and Guyot had eight.
"Defense is definitely our bread and butter," Dulek said. "We've always prided ourselves on that because we're not the biggest team. Yeah, we can get some hard hits in there, but I guess what works the best at frustrating teams is when you keep getting the ball up over and over again to the point where they have to make mistakes."
Prior to the finals match, the McPherson student section produced a poster that read "We want SJA." It disappeared shortly after the match began when St. James turned a 4-4 tie into a 13-4 lead. Dulek served for the Thunder during that 9-0 run, and Person had three kills and a solo block during that spurt. Nine of the Thunder's points during game one came on miscues by the Bullpups.
Game two quickly turned into a rout when, after a 2-2 tie, Reilly stepped to the service line and unleashed three aces as part of a 12-2 run. From there, the Thunder were on cruise control.
They've now won 20 straight matches at the Bicentennial Center, and the senior class finishes with a four-year mark of 174-7.
"It's really special, especially because this group of six seniors has kind of been with us for the past four seasons," coach Nancy Dorsey said. "They've just never backed down from a challenge. They're not the biggest group of kids you'll ever see. Other teams look at us and say 'Oh, well they're not that physically imposing. They're small.' And from the start of their freshman year we said 'It doesn't matter how big you are, it matters how hard you play, and defense is going to be the key to us being successful.' And this group has just totally bought into that and contributed obviously to our years of success at St. James, so I'm so happy for them to go out with a state championship."