St. James topples defending 4A state champs
Thunder drill Louisburg 33-19 for biggest victory in program history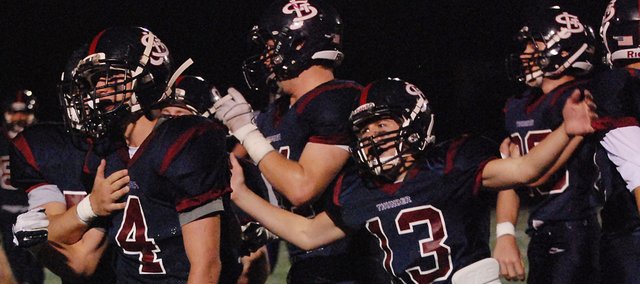 Roeland Park — A light drizzle pelted the field for the final five minutes of St. James Academy's football game against Louisburg Friday night at Dixon Doll Stadium.
Photo Gallery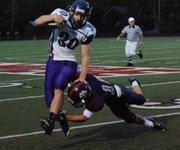 St. James Academy 33, Louisburg 19
It may have slicked the field a bit, but it did nothing to dampen the mood for the Thunder.
St. James improved to 3-0 for the second time in school history — it also happened in 2009 — it's different this time.
The 33-19 victory against Louisburg was the biggest in program history, and it validated a claim first-year coach Tom Radke made to his team the day they met six months ago.
"One of the guys reminded me that the first thing I said when I talked (at) the first meeting we had was, 'Isn't it going to be fun to knock off the defending state champions?' And we did it," Radke said, referencing Louisburg's 2010 Class 4A crown. "They have courage, heart, they just kept fighting and scratching and weren't going to be denied tonight."
The Thunder were impressive on both sides of the ball. They piled up almost 400 yards of total offense by utilizing an even mix of pass and run. In addition, they deployed a collective defensive effort to minimize the damage done by Louisburg workhorse running back Garrett Griffin.
Louisburg asserted itself early through its rushing attack. Whether using direct snaps, straight power or misdirection, the Wildcats marched 95 yards on 15 plays and gobbled more than eight minutes off the clock. Griffin accounted for 68 yards on the drive, including the final three when he scored on a dive up the middle for a touchdown. The extra point was no good, but Louisburg led 6-0 with 3:41 left in the first quarter.
St. James responded quickly. The Thunder went 58 yards on nine plays, 27 of those yards coming on a completion from quarterback Jansen Keyes to receiver Tom Huppe. The drive sputtered at the 6-yard line, however, and Will Frank's 23-yard field goal pulled the Thunder within 6-3 with 34.7 seconds left in the opening quarter.
The St. James defense forced Louisburg to punt on its next possession, and then the Thunder promptly took the lead. A 32-yard run by Bryan Eisman, a 4-yard pass from Keyes to Jake Bade, a 6-yard Eisman run and a 4-yard run by Keyes set up Keyes' 6-yard touchdown pass to Ben LeCluyse. That gave the Thunder a 10-6 lead with 8:17 left in the second quarter.
The teams traded punts, and then Louisburg put together a 74-yard scoring drive. Nick Chapman scored on a 3-yard run, and Jason Danciak kicked the extra point as the Wildcats took a 13-10 lead with 1:23 left in the quarter.
St. James went three-and-out on its ensuing possession, and Louisburg threatened to score in the closing seconds but a 37-yard field goal attempt sailed wide and the Wildcats led 13-10 at intermission.
St. James set the tone for the second half on the first play. Eisman returned the kickoff 37 yards to start the third quarter. He added a 21-yard run during the six-play drive that followed. Finally, on fourth and 14 from the Louisburg 36, Keyes rolled to his right and heaved a pass that Eckelman snared in triple coverage before shaking a tackler and marching the final four yards to the end zone for a touchdown and a 17-13 Thunder lead just 96 seconds into the third quarter.
After that, each squad put together a lengthy drive that ended with a punt. Louisburg spring Griffin for a few 6-yard runs, but the Thunder defense brought him down before he could reach open field.
"It was hard," linebacker Cole Orrick said of the effort required to bring down Griffin. "We had a lot of gang tackling, and that was key. That's the thing we've done all year. We've done a good job gang tackling, and that was huge tonight."
St. James' punt pinned Louisburg on its own 5. On the first play from scrimmage, tailback Luke Hupp ran for a yard. On the second play, Wildcats quarterback Nathan Goodwin was sacked in the end zone by Eckelman, Orrick and Darin Feist for a safety with 24 seconds left in the quarter.
On the first play of the fourth quarter, Keyes connected with Huppe on a fly pattern down the right sideline for a 36-yard touchdown. The extra point attempt failed, but the Thunder led 25-13 with 11:52 to go.
Louisburg answered with a 73-yard drive that was capped by a 2-yard touchdown run by Hupp. The extra point attempt was blocked, but the Wildcats were within 25-19 with 8:15 left.
Again, St. James responded. A three-minute drive that spanned 74 yards concluded with a 16-yard touchdown pass from Eckelman to Huppe. Keyes then threw to Eckelman for the 2-point conversion that gave the Thunder a 33-19 lead with 5:08 to go.
Moments later, the drizzle began to pelt the field, something that didn't bode well for Louisburg's comeback bid. The Wildcats' last attempt to rally ended when Griffin was forced out of bounds a yard short of a first down, turning the ball back over to St. James with four minutes to go. The Thunder ran out the clock and then celebrated the biggest victory in program history.
Griffin finished with 232 yards and a touchdown on 33 carries, but the Wildcats didn't have much else.
Keyes completed 11 of 21 passes for 185 yards and four touchdowns. Huppe caught three passes for 79 yards and two TDs, and Eckelman had four catches for 54 yards and a touchdown. Eisman rushed 11 times for 91 yards.
St. James next plays at 7 p.m. Friday, Sept. 23, at Spring Hill. A victory there would make the Thunder 4-0 for the first time ever. For the moment, however, the 3-0 Thunder are turning heads.
"My wife just told me that some fans in the stands said, 'Is this really our football team?'" Radke said. "And I hope everybody knows and the St. James family knows this is their football team. We're going to keep the guys grounded, and we're going to keep rolling."