Cougars baseball team grinds out 9-7 win against Blue Springs on Saturday, improves to 2-1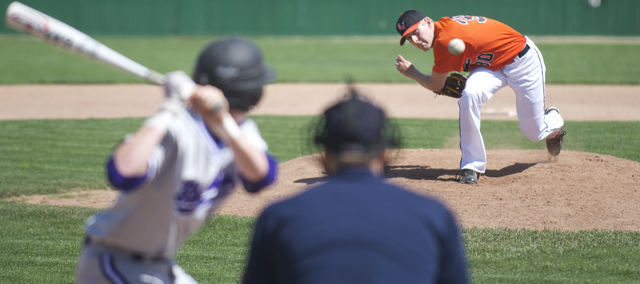 After splitting its first two games of the 2012 campaign, the Shawnee Mission Northwest baseball team overcame a few run deficits to bolster its early season mark to 2-1.
Following lead changes by SM Northwest and Blue Springs on Saturday at 3 & 2 Baseball Complex, the Cougars provided enough separation to squeak out a 9-7 victory.
"We hit the ball really well," SM Northwest coach Rich Kuzydym said. "We had some miscues today that we're not normally having, but overall, I'm really pleased with stuff going on."
Many players attacked the ball well against the Wildcats. Ty Thompson displayed notable awareness at the plate, going 4-for-4 with three RBIs.
This included a two-run single in the bottom of the sixth that put the Cougars on top for good by the score of 8-7. Chase Rader and Michael Schlicht scored on the play.
"I was seeing the ball well and I just decided that I needed to step up and support the team and get two big runs to win," Thompson said.
Mainly a pitcher, Thompson has slowly developed his hitting ability for this season with offseason preparation and practice.
"I really got after it and I'm hitting the ball really well this season," Thompson said.
The other important key for the Cougars was Marcus McNeace, who received his first start of the mound this spring.
Blue Springs' team consisted of a combination of speed, base running ability and power, making it difficult outing for McNeace.
But he stuck to his pitches and mustered a solid pitching performance of four innings, giving up four runs.
"It was a rough start, but I'm getting better every day," McNeace said.
This is where McNeace's pickoff move came in handy. Being a left-handed pitcher allowed him to nab a few players off first base.
"They're real quick," McNeace said. "When they'd get on base, they're real fast, so you had to pay attention to them on the base."
Mack Preston finished the final three innings for SM Northwest with impressive curveballs, including striking out the side to end the game.
Another contributor for the Cougars was outfielder Austin Howard, who managed a 2-for-3 day at the plate, including two runs of his own.
He also knocked in two runs in the bottom of the fourth inning when he cleared the bases with the double scoring Brett Skillet and Tyler Jewell to tie the game up at four apiece.
Setting the tone with a solid leadoff hitter will continue to be an attribute for the Cougars throughout the season.
"He sets stuff up and he's got good speed and he's a good defense in the outfield," Kuzydym said. "He's an ideal leadoff hitter."
With only three games under their belt, the Cougars realize there's a long way to go before they can reach the potential of becoming Sunflower League contenders and state qualifiers.
For now, the team is taking it one step at a time.
"That's what it's got to be because there's too many good teams in this league, but what we can do is make a run in the postseason," McNeace said. "It's still way too early to tell."