Ryan Lilja visit inspires
SM

Northwest wrestlers
Photo Gallery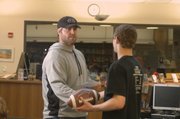 A visit from Ryan Lilja
The offensive lineman for the Kansas City Chiefs dropped by Shawnee Mission Northwest High School Wednesday to talk to the SM Northwest wrestling team and congratulate team members for their efforts in raising more than $,1800 for Down syndrome research and awareness. Lilja is an alumnus of SM Northwest.
Ryan Lilja's visit to Shawnee Mission Northwest High School Wednesday struck a chord with freshman Adam Schnacker.
Lilja, a Kansas City Chiefs offensive lineman and SM Northwest graduate, stopped by the school to congratulate the wrestling team on its efforts in raising more than $1,800 for the Down Syndrome Guild of Greater Kansas City, through First Downs for Down Syndrome.
Adam said he didn't remember how much he raised and wasn't able to do a whole lot due to a back injury he received earlier in the year, forcing him to take a temporary break from wrestling. The fundraiser still meant a lot to him personally, he said, since his 8-year-old brother has Down syndrome.
"It's really cool. It's a lot of fun doing stuff for him, and just the way everybody comes together for him," Adam said.
Adam said he also takes part in First Downs' annual Step Up for Down Syndrome Walk each year.
In partnership with the Chiefs, First Downs for Down Syndrome serves as a fundraiser for Down syndrome organizations such as the Guild.
Top earners on the SM Northwest wrestling team received prizes from Lilja, including an autographed football that went to junior Colton Almos, who raised $1,022.
Adam received two T-shirts from Lilja, for himself and for his brother. Adam said having the NFL player on school grounds was "exciting."
"He's a great player, and I enjoy watching him play for the Chiefs," Adam said.
Although, Lilja may not have entirely agreed with Adam's assessment of his playing. In a candid speech and question-and-answer session with the team, Lilja talked about past mistakes, such as getting kicked off the SM Northwest football team in his senior year for drinking. He also said that even after eight years with the NFL, he's still not as good of a player as he could be.
"I gotta play better. Last year I didn't play very well," he said. "I gotta work hard. I gotta get better, man."
Lilja's comments about bouncing back after injuries inspired Adam, who said he was looking forward to doing the same by next school year.
"Hopefully I'll get to the point where I can start building back that core strength," Adam said. "Being able to wrestle gives me a lot of confidence, and it makes me happy."