Revving back up
Local street rodder helps revitalize 40-year-old
ASRA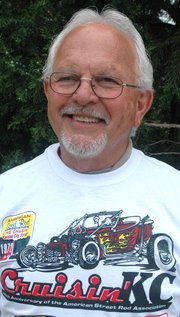 Mike Withers built his first street rod, a souped-up 1929 Ford Model A, in 1966 and cruised around campus in it during his first year of college.
Today, the Shawnee resident is chairman of the board for the American Street Rod Association, which is celebrating its 40th anniversary by hosting Cruisin' KC.
Featuring at least 100 street rods, which generally are pre-1949 cars and trucks retrofitted with late-model engines and drivetrains, the show will be held from May 4-6 at E.H. Young Park in Riverside, Mo.
Spectator admission will be $7 for Friday's opening day, which will feature the street rods, Harley-Davidsons, food, music, drawings and vendor displays between 8 a.m. and 10 p.m.
The show will continue from 8 a.m. to 6 p.m. Saturday and 8 a.m. to 5 p.m. Sunday, with two-day passes costing $12 and three-day passes available for $15.
A complete schedule plus information for street rod owners wanting to enter Cruisin' KC or future ASRA shows is available at americanstreetrodassociation.com.
Withers and his wife, Theressa, became active in the ASRA in 1972, the year it was founded, and he was the one who obtained a trademark for the organization that year.
The organization discontinued operations several years later as the better-financed National Street Rod Association built a strong presence.
But the ASRA was revved back up in 2009, after the NSRA expanded its membership to include 1949-1978 models.
Subsequently, Withers said, a group of street rod purists asked him if he still had the ASRA's original trademark-registration paperwork and whether it could be renewed. He did and it could. So in October 2009, the ASRA was reformed with a new board of directors, new bylaws and a new business plan.
Since then, the ASRA has sponsored shows in Rantoul, Ill., and Kansas City. And this year's ASRA events will include Cruisin' KC plus shows in Cedar Rapids, Iowa, and Benton and Decatur, Ill.
According to Withers, the ASRA presents winning entrants with plaques and prizes, which at Cruisin' KC will include a top prize worth $2,500.
But Withers, who now owns a 1946 Ford pickup street rod, said ASRA members are motivated by more than money.
"A lot of times, you're looking back at something even older than you; I was born in 1946," he said. "It's just the idea of being able to get something that old to look and run so good. And anywhere you go, you get all kinds of attention."