Conservatives sweep local legislative races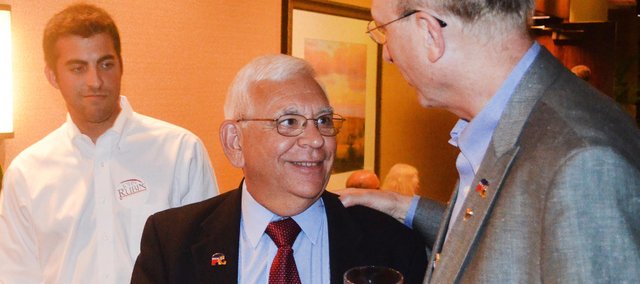 Conservative voters held sway in Shawnee on Tuesday as the four local Republican primary races for state legislative seats were captured by the candidates furthest to the right on the political spectrum.
With 100 percent of precincts reporting, these were the unofficial results:
• Mary Pilcher-Cook of Shawnee, the incumbent in the 10th District State Senate race, defeated challenger Tom Wertz of Lake Quivira 4,467 to 2,488, or 64 percent to 36 percent.
• Brett Hildabrand of Shawnee defeated Jason Leib of Lenexa in the 17th District House race 1,672 to 1,217, or 58 percent to 42 percent.
• John Rubin of Shawnee, the incumbent in the 18th District House race, defeated Shawnee City Councilman Neal Sawyer 1,782 to 888, or 67 percent to 33 percent.
• Charles Macheers of Shawnee defeated Stephanie Meyer of Shawnee 1,155 to 686, or 63 percent to 37 percent.
Asked to account for the conservative sweep and the wide margin of victory in his race, Rubin said, "The voters in my district and across Johnson County believe in the traditional Republican values of limited government, lower taxes and assisting businesses in growing the economy and jobs."
But a little "plain old hard work" didn't hurt, Rubin said, adding that he had knocked on more than 4,000 doors in his district during the campaign.
According to Rubin, he also may have benefited from the pendulum swinging back to the conservative side at the federal level as a result of "Obamacare" and other programs supported by the Democratic president.
Tom Wertz, a moderate Republican taking his first shot at elective office, said he wasn't surprised he was defeated by an incumbent who grew up in Shawnee. But he didn't expect to lose by an almost two-to-one margin.
"If you look at what appears to be happening across the state, I guess this is what the people want," Wertz said of the conservatives' success.
"I have to congratulate my opponent on her victory and wish her well," Wertz added. "She always gets her voter out, and I wasn't able to get my voter out."
Wertz added that the moderate wing of the Republican Party, "what little bit of it there is left, needs to do a lot of thinking about where to go."
More like this story