Doctor to chart history of medicine at museum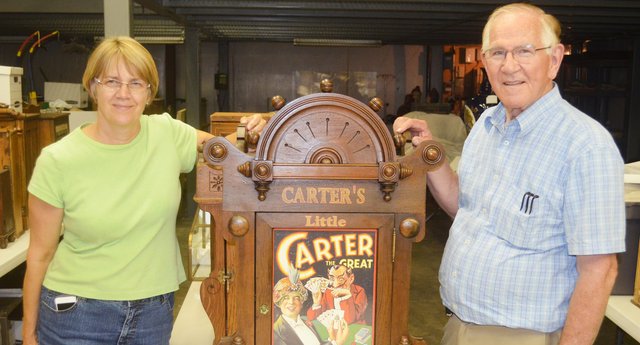 Coming soon
Medicine's Hall of Fame & Museum is scheduled to open Oct. 1 at 6801 Hedge Lane Terrace, near the southwest corner of Shawnee Mission Parkway and Kansas Highway 7.
Dr. Bruce Hodges, curator and owner of the more than 5,000 artifacts to be displayed, said guided tours will be available for large and small groups of all ages. To book a tour, call 913-888-0777.
Medicine has come a long way since the days of leeches and Native American healing drums, and Dr. Bruce Hodges wants to showcase that advancement.
That's why Hodges is preparing to open Medicine's Hall of Fame & Museum in the former Central Harley-Davidson building at 6801 Hedge Lane Terrace in Shawnee. If rezoning is approved by the Shawnee City Council and the Planning Commission, which is scheduled to consider the issue Aug. 20, the museum will open Oct. 1.
Hodges, a 79-year-old Olathe resident who still practices geriatric medicine, said his fascination with medical advancements began after he was stricken at age 10 by osteomyelitis, a bone infection that until that time was considered incurable. Fortunately for Hodges, penicillin was discovered in 1928, and in the early 1940s Hodges became one of the first patients to be treated with it.
Hodges, who earned a medical degree from Kansas University, began collecting medical artifacts 35 years ago. Since then, his collection has grown to more than 5,000 items, ranging from early 17th century Austrian apothecary jars to an iron lung used to keep polio patients alive in the 1950s.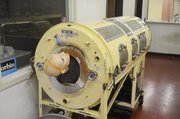 Other notable artifacts that Hodges and his wife, Cathy, pointed out during a tour of the 15,000-square-foot building where the collection will be displayed include:
• A macabre example of the head shrinking technique mastered by the Jivaro Indians of Ecuador and Peru.
• An 1870s healing drum used by a secret society of the Chippewa tribe.
• A frontier physician's saddlebags containing medicines from the 1880s.
• A large assortment of patent medicines, including "miracle cures" such as Wahoo Indian Tonic for liver and kidney conditions.
• One of the shoe-fitting fluoroscopes that were common fixtures in shoe stores during the 1930s, '40s and '50s. The fluoroscopes were equipped with portholes that allowed X-ray views of the customer's foot bones and the outlines of shoes being tried on. But when it was discovered that the radiation the devices were emitting was making shoe salesmen ill, the fluoroscopes quickly fell out of use.
Until recently, Hodges kept his fluoroscope and other relics on display in a 3,000-square-foot space on the lower level of Bickford of Mission Springs, an assisted-living facility in Mission where Hodges previously served as medical director.
When he decided to look for a larger, permanent space to display his collection, he contacted the Northeast Johnson County Chamber of Commerce and the Olathe Chamber of Commerce for assistance.
"But they weren't even interested in coming and looking at the collection," he said.
So Hodges began focusing on Shawnee, which he called "a progressive little community," and the Harley-Davidson building, which had sat vacant for four years. As longtime members of the nearby Monticello United Methodist Church, Hodges and his wife were familiar with the site and decided its location near Shawnee Mission Parkway and Kansas Highway 7 would be ideal for attracting large enough crowds to sustain the museum.
Cathy Hodges, who manages a pulmonary physicians practice at Overland Park Regional Medical Center, is expecting classroom groups from all grade levels to be among the museum's most frequent visitors.
Rotating exhibits from Hodges' vast collection, which includes artifacts from 22 countries and more than 20 North American Indian tribes, will tell the museum's story, encapsulated in its slogan "Medicine Now from Medicine Past." The exhibits will be housed in the space that served as the Harley-Davidson showroom.
Another large space will be dedicated to a hall of fame for physicians, nurses, pharmacists and others who have made their marks on medicine.
One of Hodges' favorite inductees is Ignaz Semmelweis, who demonstrated the importance of handwashing in medicine in 1844. Prior to his demonstration, the death rate of mothers in a maternity ward where doctors performed deliveries was a startling 33 percent, Hodges said. In a ward for poorer patients, where midwives delivered the babies, the death rate was only 3 percent.
"Semmelweis demonstrated the reason for the difference — the doctors weren't washing their hands after doing procedures, including autopsies," Hodges said.
The hall of fame also will honor notable figures such as Louis Pasteur, Florence Nightengale and, of course, Sir Alexander Fleming, the Scottish biologist who discovered penicillin.
"If it wasn't for him, I wouldn't be here," Hodges said.