Five questions: Dog days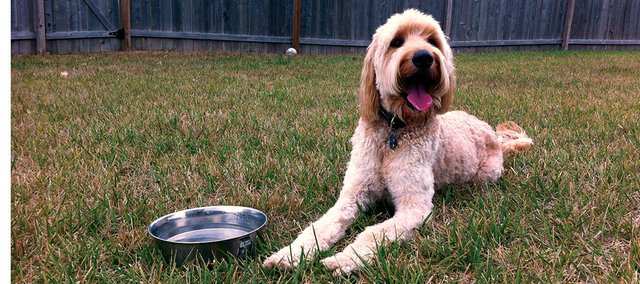 People are asked to take precautions with the excessive heat this summer, but folks also should be sure their pets' health is being considered also. Here are tips from the Humane Society of the United States about pet care.
Q: Can I leave my pet in a vehicle if it's momentary?
A: Not even for a minute with the car running and air conditioner on. On an 85-degree day, temperatures inside a car with windows opened slightly can reach 102 degrees within 10 minutes. After 30 minutes, the temperature will reach 120 degrees.
Q: How can I tell whether my pet might be suffering from heatstroke?
A: Some signs of heatstroke are heavy panting, glazed eyes, a rapid heartbeat, difficulty breathing, excessive thirst, lethargy, fever, dizziness, lack of coordination, profuse salivation, vomiting, a deep red or purple tongue, seizure and unconsciousness.
Q: What should I do if my pet has these symptoms?
A: Move the animal into the shade or an air-conditioned area. Apply ice packs or cold towels to the animal's head, neck and chest or run cool (not cold) water over the animal. Let your pet drink small amounts of cool water or lick ice cubes and take your pet directly to the veterinarian.
Q: Can my pet still exercise during a heat wave?
A: Yes, but adjust intensity and duration of exercise based on temperature, limiting exercise to early morning or evening hours during excessively hot days. Pets with white-colored ears are more succeptible to skin cancer and pets with short noses typically have difficulty breathing. Walk your dog on grass instead of asphalt when possible.
Q: Any other tips to consider?
A: Anytime a pet is outside, make sure it has protection from the sun, either with shade or a tarp. Doghouses are not good for protection from the heat on hot summer days. Plenty of fresh, cold water, and even ice cubes, also should be provided.