New director has lofty goals for Shawnee Town 1929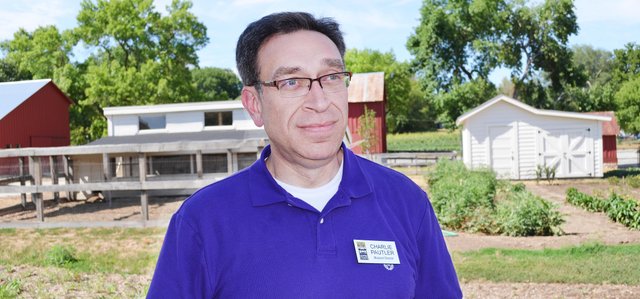 Charlie Pautler, the new director of Shawnee Town 1929, started his new job Aug. 1 with some big ideas.
Pautler, who moved here from Little Falls, Minn., where he was site manager for the Charles A. Lindbergh Historic Site, said one of his goals was to make Shawnee well known among historians across the country.
"It would be great if we could be seen as the resource on the 1920s for the whole country," Pautler said.
That would entail lots of research and development of online and hard-copy resources — not tasks that can be accomplished overnight. In the nearer term, Pautler is focusing on getting to know his six-person staff and volunteer interpreters, city officials, and representatives of local businesses and community organizations.
"I want to establish relationships with everyone," said Pautler, who is enjoying a homecoming of sorts.
Pautler, 45, grew up in Kansas City, Mo., and graduated from Hickman Mills High School before earning his bachelor's degree in historic preservation from Southeast Missouri State University and a master's degree in historical administration from Eastern Illinois University. Prior to his eight years at the Lindbergh site, he worked at Burritt Museum and Park in Huntsville, Ala., and Historic Forestville, a living history village in Preston, Minn.
Known for his expertise in developing living history and other types of interpretive programs, Pautler said he already was looking at how programming at Shawnee Town 1929 could be expanded for this fall and winter.
Over the longer term, he would like to develop programming and collections to the point that field trips to the museum are viewed by area school teachers "as a necessity, not just an optional thing to do."
That plays into Pautler's related goals of expanding attendance and revenue. Shawnee Town 1929 currently attracts about 120,000 visitors a year, a large percentage of which stems from the Old Shawnee Days celebrations and Shawnee Town Arts & Crafts Fair hosted annually by the historic site.
Established in 1966 as Old Shawnee Town, which was operated by the Shawnee Historical Society, the site has been operated by the city since 1997. Using a $500,000 grant from the Deffenbaugh Foundation and annual alcohol-tax proceeds, the city already has added 10 structures to the site, which began interpreting Shawnee's 1920s history as a truck-farming community as a result of a 2004 master plan.
Pautler, who succeeds retired Shawnee Town director Gay Clemenson, arrives as work is beginning on two new structures: a furniture and undertaking establishment and Garrett's Grocery. Both will be replicas of buildings that bustled near Shawnee's real town square, a few blocks to the east of Shawnee Town, during the 1920s.
The next phase of construction will replicate a string of four stone buildings that stood on the square in 1929.
"I'm going to make it all cohesive," Pautler said of the interpretive programming he plans to develop to tie all the site's buildings and collections together.
The children's programs, lectures, films and other events to be developed or expanded will give visitors a glimpse of what life in a 1920s Midwest farming community was like. In addition, Pautler wants the site to be a resource for learning about the fashion and music of the Roaring '20s, the Great Depression, the Prohibition era, early aviation and the emergence of automobiles, which overtook trains as the primary source of travel and gave birth to truck farming.