She's a pistol
New gun shop triggering a buzz downtown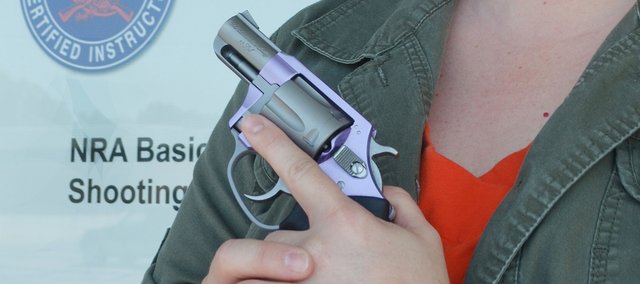 A new gun shop is creating a buzz in downtown Shawnee.
Becky Bieker, who plans to open her female-friendly She's a Pistol store at 5725 Nieman Road next month, said she chose that location because she likes the area's hometown feel.
But Heidi Hullman-Davis, manager at Dodge City Beef at 11101 Johnson Drive, said some downtown merchants think the gun shop might trigger an erosion of the ambience they've worked hard to build.
Hullman-Davis said she is used to being around guns, having grown up on a ranch and been married to a police officer. So having a gun shop half a block from her business "doesn't bother me that much," she said.
"But I wouldn't want it next door," she said. "The merchants have really focused on trying to make this a cute, clean downtown. And some of them are worried that this might start a negative trend," attracting businesses like pawn brokers, gold buyers and payday lenders to their wholesome mix.
Bieker said she knew there would be questions and concerns about her business, and she invites those merchants and residents to drop by to let her respond to them.
"I don't want them to be worried," she said. "I want the store to be an asset, to help people protect themselves."
According to Bieker, she has long been a gun enthusiast. Her father was in the U.S. Marines and she used firearms recreationally as a youth. Then, as the result of a relationship turned sour, she began to appreciate the self-protection aspect of gun ownership.
"I was in a situation where I knew it was safer to get out," Bieker said, "but putting miles between us didn't make me feel safe and I didn't think pepper spray or stun guns would be enough to protect me."
Now happily married, Bieker said she had purchased several handguns since that time. During one gun store visit with Jon Bieker, then her fiance, the idea of opening a female-friendly gun business began to crystallize.
"I was looking for a holster, and I asked if I could see a gun of the same make and model as mine to make sure it would fit," Bieker recalled. "So the guy pulls it out of the display case and hands it past me to Jon, who was standing behind me."
Bieker said she's also heard a lot of comments like, "Here sweetie, you'll like this gun because it's small."
Sensing the need for a business that would make female gun purchasers feel comfortable and respected, Bieker launched She's a Pistol as a home- and web-based business in 2009, after completing master's degrees in business and organizational administration at MidAmerica Nazarene University.
A resident of Olathe, she has previously worked in the insurance and real estate fields, but her passion for helping others protect themselves prompted her to launch ShesAPistol.com, then ramp it up with a bricks-and-mortar counterpart.
In addition to offering handguns, shotguns, rifles, gun accessories and other self-defense products, the new store will offer four training classes: an NRA First Step Pistol Orientation class for beginners, the NRA Basic Pistol class, a Kansas concealed carry class (required for a state license), and a Refuse to be a Victim class covering various aspects of personal safety.
Not surprisingly, Bieker said most of her gun and training customers are women, including students, those who live alone and those who reside in rough areas. But the business welcomes male customers, as well.