Match sought for 2-year-old's bone marrow transplant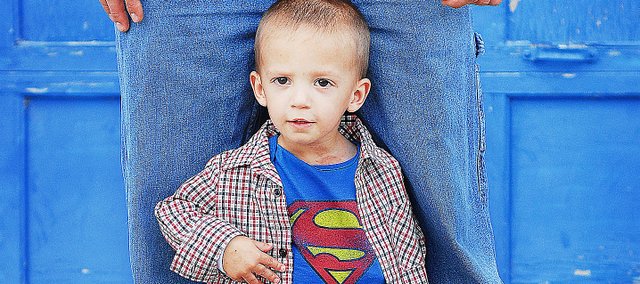 Bo Macan and his twin sister, Brooklynn, were born 10 weeks prematurely and spent the next two months in a neonatal intensive care unit.
But that was just the start of a long ordeal for Bo, son John and Carolyn Macan of Roeland Park and grandson of Jay and Janice Macan of Shawnee.
Bo, who will turn 3 in October, didn't develop as quickly as his sister. A month before turning 1, he weighed 12.9 pounds. And three months before that he was diagnosed with a growth-hormone deficiency and Type 1 diabetes — that latter meaning a lifetime of insulin injections.
Bo's doctors, however, weren't able to diagnose the underlying cause of his health problems until last December, a couple of months after Bo turned 2.
"I think Bo finally has a diagnosis: IPEX (Syndrome)," his mother said via a blog post. She went on to describe it as "a rare genetic disorder that causes diabetes, growth-hormone deficiency, thyroid problems, IGA (immunoglobulin A) deficiency (and) chronic diarrhea," adding, "That's Bo in a nutshell."
IPEX Syndrome, which effects only boys, is caused by the absence of the white blood cells that prevent the immune system attacking parts of the body. It is so rare that tests for it are processed in only one location, the Seattle Children's Hospital. And the threat of organ damage it poses is so serious that a bone marrow transplant — a potential cure — is often performed early in the patient's life.
Lisa Ramsour, Bo's aunt, said Bo is not well enough to endure a bone marrow transplant at this time without facing a 20 percent mortality rate, which his doctors and family decided was too high. So he recently began eight months of immunoglobulin therapy to bolster his weakened immune system and reduce the risk of infection.
The family, however, decided to begin seeking potential bone marrow donors now. And the results of a recent donor drive uplifted the family in the wake of the most recent medical pitfall Bo has had to endure.
"We had a very successful drive this weekend," Ramsour reported following the Aug. 11 event at Roesland Elementary School. "We ended up with 162 registered donors and couldn't be happier with the turnout."
Being tested as a potential donor was "super, crazy easy," involving four cheek swabs and filling out a form for the National Bone Marrow Registry, Ramsour said. The goal is to identify people whose human leukocyte antigen markers — that is, the proteins the immune system uses to distinguish between its own cells and intruders — closely match those of transplant recipients.
Once a match is identified through the national registry, the potential donor still has the opportunity to back out. But going forward isn't as scary as it was in the past, when bone marrow was typically extracted "straight from your bone, mostly likely your hip," Ramsour said. Now, she said, it's more often harvested through a blood-filtering process similar to hemodialyis.
Anyone who didn't attend the recent donor drive but would still like to help can go to tinyurl.com/9ycgooj and request a free registry kit. In addition, the website includes a link for people who would like to donate money to help cover the roughly $100 cost for processing each of the 162 sets of swab samples already collected.
"I hate that my 2-year-old and his brother and sisters know ... what a bone marrow transplant is," Carolyn Macan wrote. "I hate it that my sweet baby boy is sick. I hate all of it. But a day like today makes things seem a little easier, knowing there were that many people coming out and willing to donate for us, for Bo."
Two weeks earlier, Ramsour said, a port implanted in Bo's chest to make it easier to draw blood and administer medicines broke, causing a piece of tubing to travel through the boy's heart and into a one of his lungs. That necessitated emergency surgery, through Bo's groin, to extract the tube and replace the port on the other side of his chest.
Besides the blood port, doctors have implanted an insulin pump and a feeding tube to keep Bo as well as possible.
"But if you just saw him out and about, you wouldn't see those and you would never know anything is going on," Ramsour said. "He gets sick very easily, and once he gets sick he stays sick. But even then, he's such a trooper. I guess he's never known anything different, which is really sad."