Social media pool: Some districts dive in, some still treading water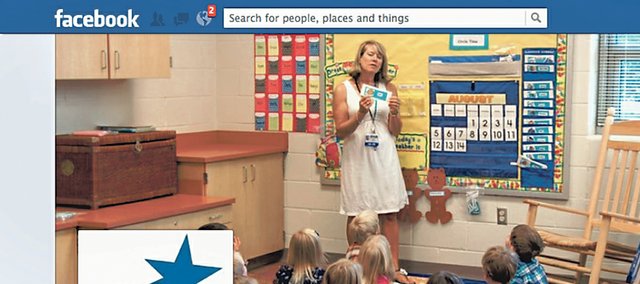 Social media in area schools at a glance
Numbers as of Monday:
Baldwin City (about 1,450 students)
• Facebook page: 418 "likes"
• Bulldog Bulletin student newspaper: 932 "likes" on Facebook, 166 followers on Twitter
Basehor-Linwood (about 2,000 students)
• Facebook page: 1,057 "likes"
• Superintendent David Howard's Twitter feed: 79 followers
Bonner Springs-Edwardsville (about 2,500 students)
• Bonner Springs High School Alumni Association Facebook page: 375 "likes"
• No district Facebook or Twitter page
De Soto (about 7,000 students)
• USD 232 nutrition department Twitter feed: 146 followers
• No district Facebook or Twitter page
Shawnee Mission (about 27,800 students)
• Facebook page: 2,676 "likes"
• Twitter feed: 504 followers
Tonganoxie (about 1,900 students)
• Superintendent Randy Weseman says district Facebook presence and personal Twitter feed launching this year
• Tonganoxie High School Twitter feed: 102 followers
In less than three years, the Basehor-Linwood school district's Facebook page has amassed more than 1,000 "likes," one for every two students in its buildings. But a few miles away, in Bonner Springs, there is no district Facebook page to be found.
In De Soto schools, students and teachers can't access Facebook sites from school computers, but in Baldwin City, Facebook not only is freely accessible, but teachers use it to keep students posted on their assignments.
As some school districts dive head first into the social-media pool — adopting tools such as Facebook and Twitter to reach more parents, patrons and students — others have dipped only a toe into the water or stayed out completely. Facebook-friendly school officials say social media sites are a vital way to communicate with as many people as possible, while others say such tools present too big a risk and would require time and resources they don't have.
"I have a personal bias in that I see a lot of people who spend a whole lot of time on Facebook when they could probably be spending their time in ways that are more educationally sound," said Robert VanMaren, superintendent of the Bonner Springs-Edwardsville school district, which does not have a presence on Facebook or Twitter (although its high school alumni association does).
Basehor-Linwood Superintendent David Howard said some administrators had fears when the district created its Facebook page in early 2010, and he knows many districts haven't launched social-media presences because of those fears. But the positives outweigh the negatives, he said.
"They're kind of, in my mind, missing the boat on another valuable tool to communicate," Howard said.
The Shawnee Mission school district jumped on that boat by creating Facebook and Twitter accounts nearly three years ago. The pages share bits of news, alerts and photos from around the district with hundreds of people — about 2,700 have "liked" the Facebook page, and about 500 follow the Twitter site.
The accounts help spread information to a wider audience and, along with the district's website, allow it to cut down on print communications, said Leigh Anne Neal, the district's associate superintendent for communications.
When districts do take that jump, Neal said, they can't do it halfheartedly.
"You can have that site, but if you never update it or you never post anything, then it's not really a very useful tool," Neal said.
That was a reason cited by officials in the De Soto and Bonner Springs districts for not getting on Facebook or Twitter: They simply don't have the staff time to constantly update and monitor accounts.
"We'd probably have to hire a full-time person just to keep up," VanMaren said.
Alvie Cater, spokesman for the De Soto school district, said he was the only employee in the communications department for the district, which has nearly 7,000 students, and a social media presence would require constant attention.
He pointed to the Mansfield Independent School District in Texas, which in 2011 shut down its Facebook page, which had drawn about 7,000 "likes," because the district could not keep up with student comments, some of which had become abusive.
Howard, the Basehor-Linwood superintendent, said he'd found that Facebook users display more civility than users in other areas of the Internet, because they generally use their real names rather than anonymous handles.
He acknowledged, though, that monitoring the Facebook page can be a full-time job. He and the district's communications coordinator check the site constantly, he said. And that's in addition to the Twitter account he started last year, where he fires off messages about state education policy, Basehor-Linwood sports and other topics using 140 characters or fewer.
"Much to my wife's dismay, I tend to be on my phone a lot," Howard said.
Baldwin City Superintendent Paul Dorathy said his district's technology staff had little trouble keeping up with activity on the Facebook page, which was launched in July 2009 and has racked up 419 "likes." The district welcomes communication on the page, he said.
"Our feeling is if they're legitimate comments, then we probably ought to see them," Dorathy said. "But if they post something inappropriate, we can take it off immediately."
Although Shawnee Mission and Basehor-Linwood have active Facebook pages, they both limit access to social networking sites on school computers. That's not the case in Baldwin City, where some teachers even use Facebook pages in class.
One of those teachers is Kit Harris, who has invited students and parents to "like" the Facebook page for his English classes, where they can check reading assignments or find links to articles or resources. His newspaper and yearbook students also use Facebook and Twitter pages to link to their coverage (the Bulldog Bulletin's Facebook page boasts about 930 "likes"), post photos and provide alerts to students.
Use of the sites better reflects the world that today's students live in, Harris said.
"Like it or not, students are going to use social media," he said.
Dorathy said Baldwin school officials had decided it would be better to model appropriate social media use for students than to forbid it. Teachers who use the sites discuss appropriate online behavior with their students, he said.
"If nobody's showing them or being an example or role model for them, how do they learn what is good or what isn't?" Dorathy said.
In Tonganoxie, Superintendent Randy Weseman said this is the year that the district's schools will establish their presence on social media. He recently opened a Twitter account (although, he admits, he's still figuring out how to use it), and the district plans to launch a central Facebook page as well as a page for each of its three schools.
"I know it's a major form of how people communicate now, so I think that by default you have to get in the mix," Weseman said.
Weseman guessed that, eventually, all school districts will have a social media presence, but some districts may be slower than others, perhaps because of smaller staffs or unfamiliarity with the social media world. And in general, he said, districts like to plan carefully and have policies in place before trying something new.
De Soto and Bonner Springs officials both said they would consider adding social online presences in the future. And neither district has stayed away from that world completely — about 374 people have "liked" the Bonner Springs High School Alumni Association's Facebook page, and more than 140 followers get menu updates and other tidbits from the De Soto district's nutrition director.
Howard said he believed school leaders' attitudes toward social media are becoming more favorable, especially as more older people become familiar with Facebook. He noted that he has not yet been able to use a secret weapon that he's banking on to increase interest in his Twitter feed: Come winter, it will be the first place students and parents can find out if it's a snow day.
"If I start tweeting school is canceled," Howard said, "I think I'll probably get more followers."