Honorary officer
Police honor deceased boy's dream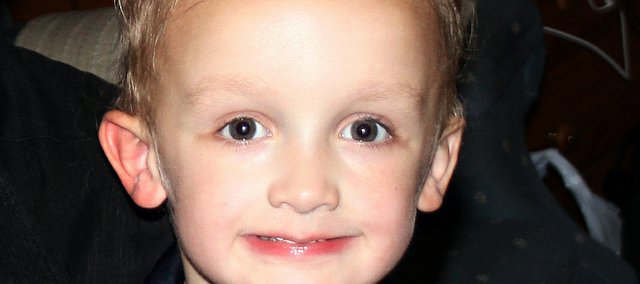 Noah Davis would have celebrated his seventh birthday on Aug. 27 and might have gone on to fulfill his oft-stated dream of becoming a police officer.
But Noah, whose dream was honored posthumously by the Shawnee Police Department, nearly drowned June 29 in a swimming pool at an Overland Park apartment complex. Although he regained a pulse, thanks to the efforts of emergency personnel, he died July 7.
According to Shawnee Police Chief Larry Larimore, Noah had said he wanted to become a police officer because "he wanted to keep people safe." In death, he did even more than that, the chief noted. Through his family's donation of his organs, Noah helped save three lives immediately, Larimore said, and about 40 more people are expected to benefit from his organs and tissues.
To honor that gift and the boy's dream of joining the law enforcement ranks, the Shawnee Police Department welcomed Noah as an honorary member of the force during an afternoon ceremony on his birthday.
Two months ago, when Noah lost consciousness, "we could not imagine what we would be doing on his birthday," his father, Jason Davis, said at the conclusion of the ceremony. "To have this to look forward to was just an honor."
A crowd of other family members, friends, Shawnee city and police officials and members of the Overland Park and Johnson County Med-Act emergency crews that tried to save Noah packed a training room at the Shawnee Police headquarters for the ceremony.
Among them were Noah's mother, Sara Davis, and his older sister, Zoe Davis, who recently moved from Overland Park to Shawnee so they could live in the city where Noah is an honorary police officer.
According to Chief Larimore, the honor started with a request from Shawnee Ward 4 council member Michelle Distler, a friend of the Davis family. After attending Noah's memorial service, the chief said, Distler told him how moved she had been to hear of the boy's career aspirations during the service and asked if there was "any way we could make him an honorary police officer."
"I told her we could, and the rest has just fallen into place," Larimore said.
Distler, who volunteers for the Shawnee department and was a member of its most recent Citizens Police Academy, was already a big fan of the local police force. Now, she is more so.
"I think it is a wonderful thing the Shawnee Police Department is doing," Distler said prior to the ceremony, "and all of the credit goes to our chief, even though he keeps trying to give it to me. He is awesome, and the family is so touched by this."
During the ceremony, Larimore read essays he found on the Internet from other youths describing the reasons they wanted to become police officers. He also presented the family a Medal of Valor for Noah and recounted the bravery of several local officers who have earned the medal to assure the parents of the "very good company" their son is in.
City Manager Carol Gonzales, who swears in all new Shawnee Police officers, recited the oath of office that new members of the force repeat and gave the family Noah's honorary police officer certificate. And Deputy Chief of Police Rob Moser presented the Davises a shadow box containing a name plate engraved with Noah's name, two badges, a challenge coin medallion, and a medal and ribbon signifying courage and bravery.
According to Larimore, the decision to conduct the ceremony was not a difficult one.
"I thought back to all the tragic calls involving children killed or seriously injured that I had been involved with in the past," the chief said in a recent newsletter, "and it was intense sorrow of the family members that impacted me the most. So I figured we — the city and police department staff — would be more than happy to bring some comfort to Noah's family and their friends."