Best Overall Restaurant: Hereford House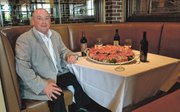 Best Overall Restaurant: Hereford House
17244 Midland Drive
Hereford House boasts "the best steak in the city," said Mark Hembrey, general manager.
"Our service is consistently friendly," he added. "There's so many standards that we try and keep up with our service, but if you aren't friendly, the others don't fall into place."
In addition to steak, Hereford House's menu includes salads, seafood, sandwiches and burgers. The layout of the place, which is sectioned off into a bar, three private dining areas and two dining rooms, also lends itself to a more personal, less chaotic, dining experience.
"I think we do a really good job of taking care of the special occasions," Hembrey said.
Runners-up: Paulo and Bill, 16501 Midland Drive; Pizza West, 5436 Roberts St.