Indians banged up in 41-16 season-opening rout against Leavenworth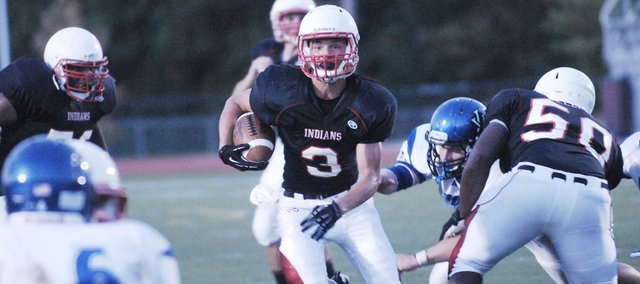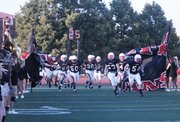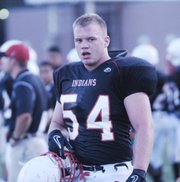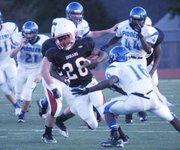 Entering this season, Shawnee Mission North football coach Dennis Grayless was confident that he had the right mix of personnel to operate the Indians' run-heavy Wing-T offense.
Between a deep backfield and a sturdy offensive line that won a summer skills competition, the pieces appeared in place. When a handful of those starters went down Thursday against Leavenworth, primarily on the offensive line, the game took on an all too familiar tune.
The inability to replace sophomore tackles Darrell Jackson and Jonathan Pressler (cramps) and senior guard Anthony Naylor proved the difference between avenging a loss that kept the Indians out of the playoffs in 2011 and starting the year on the losing end of a lopsided decision.
"I think our ones are as good as any ones that are out there" Grayless said. "But we've always struggled with depth in this football program."
A 16-16 stalemate soon got out of hand after Grayless was forced to shuffle his linemen, bringing several inexperienced players into the fold. SM North couldn't orchestrate another scoring drive after halftime, while Leavenworth kept the fireworks flying on the way to a 41-16 rout.
Pioneers junior running back Jason Randall blazed past the Indians defense all night, rushing 12 times for 225 yards and three touchdowns. Meanwhile, quarterback Judson Cole delivered a pair of second-half daggers and finished with 135 yards off 5 of 7 passing, three touchdowns and an interception.
"That's the difference between being fast and not being fast," Grayless said. "We're quicker this year, but we're not … we just need to be better."
Cole's first touchdown broke open a late-second quarter tie merely moments after the Indians had rallied to seize momentum. After falling behind 16-0 behind a pair of Randall scores and two-point conversions, the Indians took control of the second quarter.

A 15-play, 79-yard drive spanned half of the quarter, with SM North running the ball on all but three plays. Four different rushers kept the drive going until senior Caleb Denman ran it in from 14 yards out and junior Jesse Patterson ran in a successful two-point conversion attempt.
Suddenly showing life, the Indians cut the Pioneers' next possession short for the first time all night. Junior offensive/defensive lineman Maceo Mitchell sacked Cole for a four-yard loss before Pressler came down with an interception on the next play to put the Indians on the Pioneers' 38-yard line. Patterson split carries with Henry Bell on the drive, Bell taking a facemask on fourth-and-nine to keep it alive. Moments later, Bell evened the score with a three-yard run, and senior quarterback Nick Finazzo completed a two-point conversion to Max Payne to tie. On Thursday, Finazzo completed 9 of 13 passes for 91 yards and an interception.
Two plays later, however, Cole sent a 57-yard pass sailing to the corner of the end zone, brought down by Jeff George, to return Leavenworth to the lead with less than two minutes left before halftime. With time to answer, Bell took off for runs of 15 and 21 yards, and Patterson added a 15-yard scamper on a drive that put the Indians on the Leavenworth 21 with just seconds to spare. But the snap sailed over Finazzo's head as he took a 10-yard loss to kill the drive and end the half.
Ask the Indians later, and some will say Cole's second quarter touchdown pass had already deflated some on the team's roster.
"The second a big pass hits us, people are hanging their heads," Patterson said.
If depth beyond the starting lineup is light right now, so is confidence as the Indians still seek to finish a season north of three victories for the first time since 2004.
"There are guys in our own locker room where it's game day and they don't even think we can win," Patterson said. "Our ones, we're confident, we're ready to go. But not all guys in our locker room think we can win. … We have guys going out there with losing attitudes and that's what happens on the field."
Both Patterson and senior offensive lineman/linebacker Will Carter contributed to the varsity team as sophomores and know the learning curve associated with adjusting young players to the speed of the varsity level.
"I think tonight was definitely an eye opener for some No. 2's and some younger players," Carter said. "This team as a whole, we need to step it up."
For Grayless that means developing depth to the point where players like Patterson and Carter can take an occasional breather on the sideline.
"We ask a lot of our kids that a lot of teams don't have to ask because the depth is just not there," Grayless said.
It doesn't get any easier as the Indians try to recoup Thursday's losses. SM North will travel to ODAC at 7 p.m. Friday to meet defending 6A state champion Olathe South.