Students react to 'Race to Nowhere' film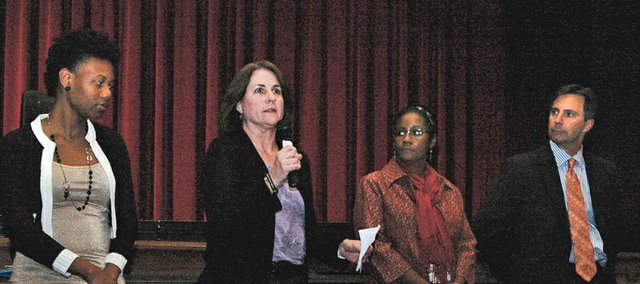 Kassandra Valles knows how bad it feels not to meet her own high expectations.

"If I get a 'B,' it takes time to feel like it's not the end of the world," the Shawnee Mission North senior said.
Taking advanced placement classes and being involved in a number of extracurricular clubs and activities, Kassandra has a lot in common with students depicted in the 2009 independent documentary film "Race to Nowhere," which was screened at SM North last Wednesday.
The film chronicles the struggles of a number of students from across the country who say they are stressed out, unhappy and unhealthy because of the pressures placed on them by parents, the school system and even themselves to succeed academically.
The film advocates for education reform that includes less homework, or even none at all, so that youths are allowed more time outside of school to relax and spend with families. It also documents the lengths students will sometimes go to make the grade.
"I can definitely say there were times where I didn't feel like I could get it all done, and I have cheated and I have not done my homework and I have just said, essentially, 'screw it,'" said Tucker Love, a 2012 graduate of SM North who is now a freshman at the Kansas City Art Institute.
He said he attended the screening because the issues with the school system the film addresses had bothered him a lot during his final year of high school.
"And it still bothers me," he said. "It's something that I am concerned about for my kids and for my sister, who's currently a student here. And I see her falling asleep on the couch with three textbooks surrounding her. That's not what kids are meant to be doing."
Based largely on word of mouth, "Race to Nowhere" has garnered quite a following among the education community and has been screened at thousands of schools across the globe.
The film was created by Vicki Abeles, a San Francisco Bay Area parent. Abeles was inspired to create the film after witnessing her own high-achieving son and daughter struggle with anxiety and stress over classes and homework, a story line that's depicted in the film.
"Race to Nowhere" also includes interviews with teachers, administrators, authors and parents, including the mother of Devon Marvin, whom the film is dedicated to. The straight-A middle school student from San Ramon Valley, Calif., committed suicide in an act her mother believes may have been related to receiving an "F" on a math test.
"Race to Nowhere" had been screened at other schools in the area, said Gwyn Heidrick, social worker at Hocker Grove Middle School, and Becky Sandhaus, social worker at SM North. At the request of PTA members from both schools, Heidrick and Sandhaus said, they worked together to organize the SM North screening.
"I think it's really important in starting a dialogue to look at how to help our children have more balance in their lives," Sandhaus said. "To help our children and make changes that are healthy for schools and communities."
The screening was followed by a panel discussion among several members of the mental health community and audience members, including a SM North sophomore who stood up to talk about the depression he was feeling as a result of school.
Sandhaus and Heidrick said communication and improved time-management skills could go a long way toward mitigating the pressure students are under. And there's a lot to be said for saying "no," Heidrick said, even in a district such as Shawnee Mission, where there are ample extracurricular opportunities for students.

"Just helping kids recognize consequences of their choices," she said. "Talk about the positive things that will come with their decisions, as well as the negative consequences."
Both Kassandra and Love agreed with the film's argument that changes need to be made to a school system where it seems like test scores often take precedence over students' physical and emotional well-being. But they said they didn't know what those changes should be.
"I actually just wrote a paper about this for a college class, and that is the issue I found, is that we don't have a solution yet," Love said. "And that's the problem we face, is trying to find the solution to the bigger issue of making kids into test numbers. Because they're more than just a test number."

More like this story