Longtime city attorney marches on after trials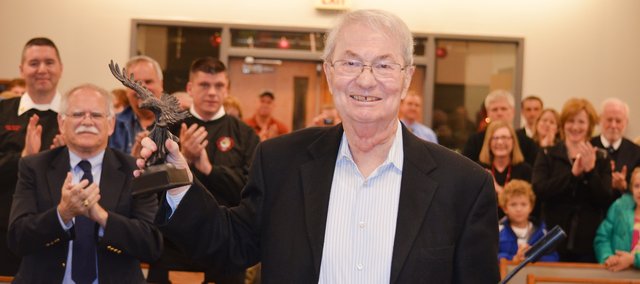 The political strife involving Shawnee's municipal government and its critics has been fodder for front page news recently.
But it's nothing new to Marvin Rainey.
The 79-year-old Shawnee city attorney has seen it all during a career in city government that began a half century ago, when he was elected as Overland Park's second mayor.
Rainey, who has served in his present role for 38 years, looked back on that long career last week, after being recognized at a Nov. 26 City Council meeting for a prestigious award recently bestowed by his legal peers.
The International Municipal Lawyers Association presented Rainey with the Joseph I. Mulligan Award, which is given occasionally to laud distinguished public service in the field of local government law.
In a press release announcing the honor, the presenters noted that Rainey had made "a significant impact in shaping Kansas municipal law" through his roles in court cases involving eminent domain, land uses and the federal Fair Labor Standards Act.
"Marvin's expertise in eminent domain is legendary," the release stated, "and he is responsible for several Kansas decisions."
A trying year
The release also noted the "personal challenges" Rainey had endured during the past year — challenges that make the recent controversies he has witnessed, and even the gallons of midnight oil he has burned in resolving local legal issues, seem trivial.
Elisabeth Rainey, Marvin's wife of 52 years, died from cancer on March 10, her birthday. And two months later, he was diagnosed with cancer, prompting surgery to remove several teeth, part of his left jaw and some hip tissue for grafting.
The IMLA described those ordeals as challenges "that would cause a less dedicated public servant to falter or at least pause."
"But Marvin marched on, exhibiting his usual professionalism and dedication ... as an exceptional municipal attorney," the organization noted.
Rainey, who sat down for an interview following a PET scan at a local hospital last week, said he is currently cancer-free and looking forward to continuing his career with the help of Ellis Rainey, his son, legal partner and longtime assistant city attorney.
"I'll retire at some point," Rainey said. "But this is what I do; it's what I've always done."
Rainey earned his law degree from the University of Missouri-Kansas City in 1959 and got involved in politics a year before that. His college chess buddy, a reporter for the Kansas City Star, had introduced him to some area people involved in the Democratic Party. And Rainey's subsequent involvement in the party led to his appointment as Johnson County's election commissioner in 1958 by Kansas Gov. George Docking, a Democrat.
Welcome to City Hall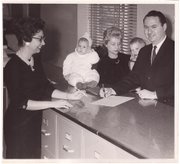 Five years later, Rainey filed for mayor in Overland Park. And shortly after his 1963 victory, Overland Park's first city manager, Don Pipes, was appointed.
Pipes' first Overland Park City Council meeting was an eventful one, recalled Rainey, who at the time presided over a governing body that included eight Republican and two Democratic council members. One of the Republicans had moved away, Rainey said, and the rest surprised him at the meeting by attempting to appoint a successor who had already announced he was going to run for mayor against Rainey in two years.
Rainey responded by vetoing the appointment, leaving the Republicans without the necessary eight votes to override him. That prompted them to cite an attorney general's opinion stating that the mayor could not veto council appointments, whereupon Rainey responded, "Tough, I just did."
"Then there was a lot of arguing, so I banged the gavel, declared the meeting out of order and adjourned it," Rainey said.
Rainey went on to win, by 29 votes, a second mayoral term, during which he mounted an unsuccessful 1966 campaign against U.S. Rep. Larry Winn.
Mayor Hayes' appointee
A few years later, he became involved in Shawnee government, which, despite nonpartisan city elections here, was dominated by Democrats at the time due to the city's predominantly blue-collar population.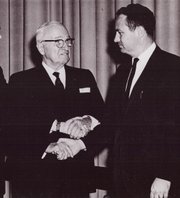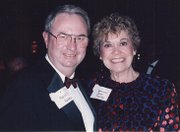 Rainey was appointed early in 1974 by Keith Hayes, who had run for mayor as part of a reform party that had targeted the council's "good old boys," Rainey said.
At the time, Hayes had only one ally on the City Council, Charlotte Hargis. So his previous attempts to appoint his own attorney had been rebuffed. But Rainey's appointment was confirmed, because most council members at the time were Democrats. The council's makeup changed a couple of months later, however, when Shawnee voters elected more reform candidates while also approving a city manager form of government.
Rainey has now served under four city managers and five mayors, and he's witnessed multiple battles between ever-changing casts of good old boys and reformers.
Surviving controversy
Today, he said, the battles appear to be less related to local issues than in the past and more related to national ideology, such as the Tea Party conservatism that City Council challengers in the last election embraced. In addition, criticism seems to be focused more on procedural aspects, Rainey added.
But one thing never changes in Shawnee or other cities, he said.
"In every city there are always people who group together after a period of time because they have similar ideas as to what's best for the city," Rainey said.
Asked how he had been able to survive the fray, the soft-spoken city attorney offered a few explanations.
For starters, Rainey said, he has tried to stick to the legal issues.
He also has attempted to maintain a low profile, he said, addressing questions about issues that arise during city meetings only when asked to.
A third reason for his longevity in office is less a conscious practice than a character trait.
"I don't decide who's a friend, who's a good councilman based on their votes and opinions," Rainey said.
Perhaps Rainey's ability to maintain friendly relations with multiple parties has been most key to his survival as a city attorney — a role in which he serves many masters.
The question of who, exactly, his client is — the mayor, the council, the city manager or the citizens? — is a difficult one that has never definitively been resolved, he said. But when pressed for an answer, Rainey responded, "Ultimately, I believe it is the entity itself, which is the citizens."
Legal accomplishments
In serving the city, Rainey's accomplishments have included his efforts as lead attorney in Lamon v. City of Shawnee, an early 1990s case involving the federal Fair Labor Standards Act. The case had been brought by a group of Shawnee police officers who argued that they deserved back pay at overtime rates for unpaid lunch breaks during which they had been on call. A negotiated settlement ultimately resolved the conflict for the local parties involved. But Rainey's efforts in federal court also have been credited with limiting FSLA judgments and payroll costs in other cities by helping to redefine what types of breaks are compensatory for public safety employees.
"Being on call isn't enough" to require payment, Rainey said.
A few years before the FSLA case, Rainey also helped set precedent by drafting and defending a Shawnee ordinance banning pit bulls.
The 1985 ordinance, a reaction to the mauling of 4-year-old Lanny Hamp Jr. in Merriam, was a stretch, Rainey said, "because all prior ordinances that attempted to be breed-specific had been declared constitutional."
Rainey, however, prevailed in Johnson County District Court after a dog owners group challenged the new law. And Shawnee's ordinance soon became a model, adopted by cities across the country. Locally, a grandfather clause protected existing pit bulls. But "the last pit bull in Shawnee died quite a few years ago," Rainey said.
Marathon meetings
Dogs also came to mind when Rainey was asked to recall some of the marathon city meetings he'd endured.
One of the most memorable occurred in 1987, when rezoning for a $35 million greyhound racetrack reached the Shawnee City Council.
According to Rainey, Mayor Tony Soetaert thought he would be casting a tie-breaking vote for the rezoning. But to Soetaert's consternation, Ward 1 Councilman Les Edvalds, who had just been appointed, flip-flopped on the issue and voted no, causing the huge audience to erupt in applause.
Rainey has also sat through long and tumultuous meetings on extensions of landfill permits and other issues. But the longest meeting he ever sat through, the 12-hour record breaker, took place around 1980 in Leawood.
Rainey was representing the developer of a psychiatric hospital seeking zoning approval from the Leawood Planning Commission. And unfortunately, that agenda item followed lengthy discussion about amending the city's comprehensive plan to allow more office development.
By the time Rainey arrived home from the meeting, at 6 a.m., his wife had made coffee and was ready to start calling the hospital and police.
"We didn't have cell phones in those days," he said.
More like this story