Shawnee murder suspect pleads guilty to drug charges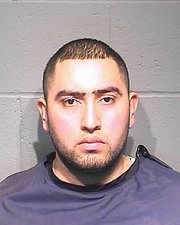 A 27-year-old Shawnee man charged with the city's only murder during the past two years has pleaded guilty to drug dealing charges in federal court in St. Louis.
Jesus Esqueda-Perez, charged with first-degree murder in the February 2011 death of 29-year-old Oswaldo Conde-Gamboa of Kansas City, Kan., is scheduled to be sentenced on the drug charges on Jan. 17, said Tiffany Becker, an assistant United States attorney handling the case for the U.S. Attorney's Office for the Eastern District of Missouri.
According to Becker, Esqueda-Perez pleaded guilty to federal charges that he was involved in "a conspiracy with others to knowingly and intentionally possess with intent to distribute and to distribute cocaine in excess of five kilograms."
"I can't address the plea agreement," which was filed under seal, Becker added.
Lanny Orburn, an assistant Johnson County district attorney handling the murder case against Esqueda-Perez, said it remains sealed, as well, preventing him from discussing the impact that the drug case will have on the murder case.
Following a six-day investigation by Metro Squad detectives, Esqueda-Perez was charged with Conde-Gamboa's murder on Feb. 14, 2011. Shortly thereafter, a Johnson County District Court order sealed the murder case to protect a related, ongoing federal investigation.
Conde-Gamboa's bullet-pierced body was found shortly after midnight on Feb. 6, 2011, on a desolate stretch of roadway near the intersection of 43rd Street and Lakecrest Drive near the Kansas River in northwestern Shawnee.
During an April 30 preliminary hearing in the murder case, the 16-year-old girl who found the body testified that she had been driving home on 43rd Street when she veered into the snow to avoid being hit by a white car coming quickly toward her.
After the car passed, the girl said, she continued east to the point where 43rd Street turns into Lakecrest Drive but had to stop because something was blocking the only passable lane of the road.
When she realized it was a man's body, she called 911.
The first Shawnee police officers on the scene said there were bullet holes in the man's jacket and five shell casings, tire tracks and Nike sneaker footprints in the snow around him.
Esqueda-Perez's wife, Raytashi Esqueda, testified that her husband had held a job as an industrial diesel mechanic for several years and performed as a rapper under the nickname Dinero Fazil, which means "easy money."
A few months before the homicide, Esqueda-Perez got a second cellphone, a "walkie-talkie" model that his wife never got the bills for, as she did for their other cellphones, she said.
About once a month, she added, Esqueda-Perez would be gone for a couple of days, saying he was going to shows but never specifying exactly where.
A few times, Esqueda said, she noticed her husband with cash after his trips, but he told her the source of the money was none of her business.
"It was always private from me," she said. "We didn't have a good relationship."
On the evening of Feb. 5, 2011, the couple had gone to dinner and picked up a movie on the way home to their Shawnee apartment.
After taking a phone call in Spanish, Esqueda-Perez headed out about 11 p.m. but didn't tell his wife where he was going, she said.
Esqueda said her husband usually wore a pair of Nike tennis shoes.
The following day, after seeing news reports about the Shawnee homicide, her husband seemed shaken, Esqueda added.
Martha Conde-Torres, the murder victim's wife, told the court through an interpreter that her husband had worked for about three months as a mechanic at the same Kansas City, Kan., auto-body shop where Esqueda-Perez worked.
But her husband had been laid off and was unemployed at the time he was killed, she said.
Torres said she and her husband had been watching television together when he got a call about 10:45 p.m. on Feb. 5, 2011.
Conde-Gamboa told the caller "come on down," she said, and he soon left in a white passenger car.
Torres wept when she told the court he did not return home.
— Former Dispatch editor Sara Shepherd contributed to this article.