Special education students seeing benefits from baking program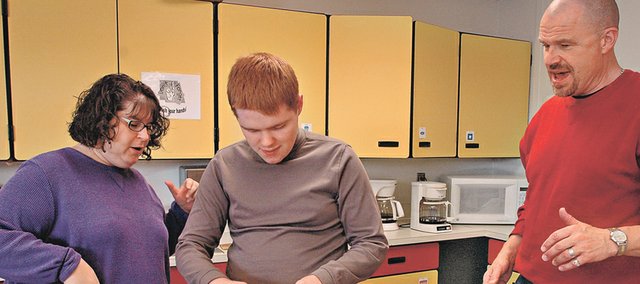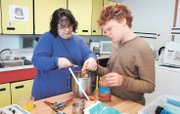 How to order
Packages of full-sized biscuits or 10 small bites are available for $1 apiece. To place an order, send an email to noalbors@smsd.org, nodalrym@smsd.org, nowhite@smsd.org or nowolf@smsd.org. Barkin' Biscuits also can be found on facebook at facebook.com/CBDBarkinBiscuits.
Every Friday morning, the smell of peanut butter, pumpkin and maybe even a hint of mint baking in an oven wafts through the west wing of Shawnee Mission North.
But it's not cookies that special education students are baking in the kitchen with the help of their teachers.

Earlier this year, Judi Albors and some of the other special education teachers had been trying to come up with a new approach to teaching their students, who have communication or behavioral disorders, meaningful work skills outside of the classroom setting. That's when they landed on what they thought was the perfect idea.
"We have many dog lovers down here, so we thought, 'Why not dog biscuits?'" Albors said.
She said she found four easy recipes online — mint-, peanut butter-, beef-, and peanut butter and pumpkin-flavored dog biscuits — and the baking began in October.
"It's one of the things they look forward to" each week, teacher Judith White said.
But after a couple weeks of baking and turning out a plentiful array of dog treats, Albors said, one question remained: "We made the dog biscuits. Now what do we do with them?"
That's how Barkin' Biscuits was born. The teachers decided to try turning the vocational education program into an ongoing bake sale of sorts, selling the biscuits to the teachers at SM North who own dogs. The proceeds would be used to help support field trips and technology for students in the communication and behavioral disorders program at SM North.
The response from teachers was enthusiastic, and almost immediate.
"I sent out an email," Albors said, "and I sold out within 30 minutes."
Word of the work being done in the west wing kitchen has spread, White said, and since then the students and teachers have raised more than $300, selling the biscuits to teachers, staff, administrators and even parents districtwide. In addition to the baking, the students help package the biscuits — three to four biscuits or 10 "small bites" per package — and make labels. The students also deliver orders if the treats are for teachers within the SM North building.
"It's intrinsically reinforcing to them," White said, "because they're learning, they're doing something they enjoy."
The teachers organize the baking sessions each week by asking for volunteers to help with cracking the eggs, measuring the whole wheat flour and other recipe steps. Then comes the favorite part for a majority of the students, said special education teacher Jennifer Dalrymple: flattening the dough with their hands on a flour-topped table.
"A lot of these kids are tactile defensive, which means they are uncomfortable with certain textures of food items," said Nick Englen, a speech/language pathologist at the school. "This is a training opportunity to get used to different textures and facilitate work in any type of work setting."
Students also are developing language skills, Englen said, as teachers encourage the students to verbalize what they are doing as they crack the eggs or drop spoonfuls of peanut butter into a mixing bowl.
Of course, as eighth-grader Reed Hosley demonstrated during a recent baking session, there's always the potential chance to sample the dough as it's prepared. And that's OK with these dog biscuits, which are made with ingredients you might find in a cookie, but which are still safe for dogs, White said.
"It's all food that people would eat," she said.
With a nod and a smile, Reed gave his vote of approval for the day's work. The real critics, though, are enjoying the results of the program, too, White said.
"We get a lot of responses from people saying our dogs really love it," she said. "That's really the best part."