Toy drive organized by youths, church still taking donations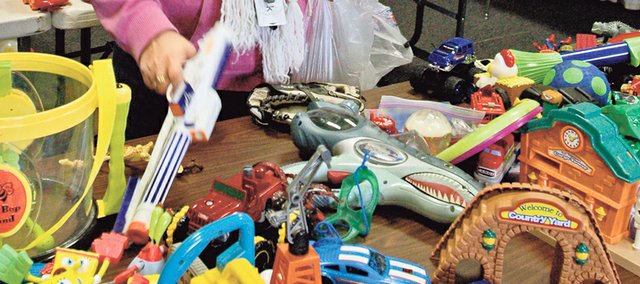 On Saturday morning, Neesha Caudill of Overland Park was doing what many parents of young children are doing this time of year: shopping for Christmas presents.
But what made this shopping trip different was that Caudill was choosing among tables of free toys available for anyone who showed up to GracePoint Church in Shawnee.
The church is hosting its Christmas toy drive on Saturdays this month, leading up to Christmas. The annual drive, which provides new or gently used toys and clothing to families throughout the Kansas City metro area, was started four years ago by the church's pastor, Dave Thornhill.
"We're a church that is about the community, and we want to show the love of Christ to the people around us," said GracePoint youth director Heidi Lindsay, who helps to organize the drive each year with her sister, Jenn Wilson. Parents can choose two to three toys and/or articles of clothing per child, Lindsay said.
The success of the drive usually rests largely on donations from church and community members, Lindsay said, but this year there were significant contributions from a new source: Club 121, a Christian club at Mill Valley High School. In November, junior Katie Linsey, a club leader, led efforts to organize a toy drive at Mill Valley, gathering 526 toys for the GracePoint drive through donations from students, staff and parents.
"I was really pleased with the amount of toys that we had donated, just because during Christmastime there's a lot of different drives going on at the same time," said Katie, who is also volunteering at the toy drive throughout the month. "So I wasn't sure how well it would go, but I was pleasantly shocked."
Katie isn't the only youth member at the church helping out this year, Lindsay said. Other teens and younger youths at the church have been helping to organize and clean the gently used toys and staff the drive on Saturday mornings, serving free coffee and helping parents look for that perfect Christmas gift.
"It's great," Caudill said Saturday morning as she shopped for toys for three young sons. She said she had never been to the GracePoint drive before but had tagged along this year with a friend. "They have a big selection."
Lindsay said about five families attended the drive the first Saturday, Dec. 1, with that number growing to 30 last Saturday. A sign-up sheet showed that parents had visited the drive from as far as Independence, Mo.
New or gently used toys, books, games, stuffed animals and clothing can be dropped off at the church, 5425 Martindale, from 12:30 p.m. to 3 p.m. Monday through Thursday, from 6:30 p.m. to 8 p.m. Wednesday and from 9 a.m. to noon Saturdays, when the toy drive is going on.
"We're definitely looking for more donations," Lindsay said.
The drive will continue Saturdays at GracePoint through Dec. 22.
By the end of the drive each year, most of the toys have been given away. "And what we don't, we give to Big Brothers Big Sisters," Lindsay said.
For more information, contact Wilson at 913-515-4250 or at kids@kcgracepoint.