Emotional win highlights Johnson County Classic wrestling tournament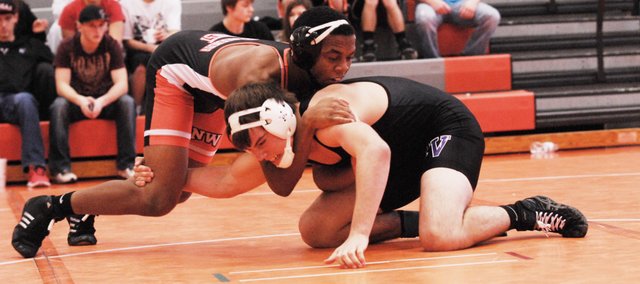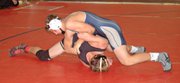 Stilwell — LaPhonso McKinnis ran out of the Blue Valley high school gym Saturday night, tears and sweat covering his face. Winning the 170-pound title at the Johnson County Classic was important to the Shawnee Mission Northwest junior who came into the tournament seeded sixth in his weight class.
"It means the world to me," he said through gasps. "I wish my mom and dad were here to see this."
SM Northwest head coach Howard Newcomb said it was a big win for McKinnis, who lives in a foster home.
"It was a real emotional win," Newcomb said. "(McKinnis) has not gotten a lot of breaks in life, so it was good to see him have that success."
In addition to McKinnis' victory, freshman Brian Morelan placed fifth in the 120-pound class, senior Colton Almos placed fourth in the 145-pound group and junior Mario Galvan finished second among the 195-pound class.
The Cougars finished ninth overall in the tournament.
"Going into break (doing well in this tournament) is real encouraging," Newcomb said. "Our kids battled hard for two days."
Mill Valley places fifth
Mill Valley high school finished fifth overall in the tournament, with eight finishing in the top six.
Sophomores Bryan Burnett and Logan Marx placed second in the 138- and 120-pound classes, juniors Landon Scott and Jake Ellis finished third in the 106- and 145-pound classes, senior Derrick Paxton finished fourth in the 182-pound group and freshman Seth Burnett and juniors CJ Beran and Jake Gramke won fifth place in the 152-, 132- and 195-pound classes.
Head coach Travis Keal said he expected his wrestlers to battle throughout the weekend.
"I always expect us to compete hard, get after people and get better in our process so we can get better for February," he said. "The kids have been wrestling hard, fighting for position and different things, and that's what I like to see."
SM North's Contreras fourth
Shawnee Mission North senior Armando Contreras won the 220-pound title last week at the Shawnee Mission Northwest tournament, entering the weekend undefeated at 10-0.
He left Blue Valley with his first two losses of the year, though, placing fourth. Contreras said his disappointment in those losses came from his lack of preparation.
"I had too much confidence, but it won't happen again," he said.