SM

Northwest boys' rally stifled by

SM

South in 61-42 defeat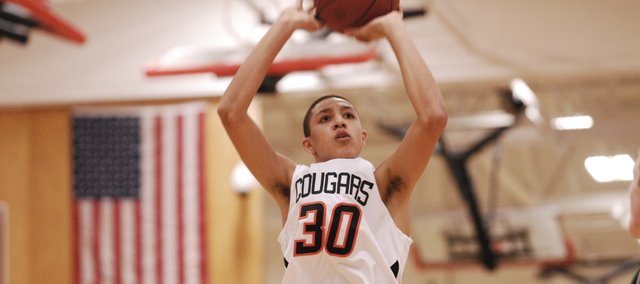 For the first five minutes of the second half on Monday, things looked like they could be different for the Shawnee Mission Northwest boys basketball team against undefeated SM South.
After trailing 27-16 at halftime — and having watched the Raiders hit back-to-back buzzer-beaters at the end of the first two quarters — the Cougars authored a 10-2 run and forced an SM South timeout after SM Northwest junior Keaton Cross turned a steal into a layup to pull within three at 29-26 with 5:44 left in the third quarter.
The Raiders pulled away out of the break, however, and handed the Cougars (3-2) a 61-42 defeat in their final game before winter break.
"I was proud of their effort in the second half," SM Northwest coach Mike Rose said. "We did much better in the second half. But when you turn the ball over 16 times and miss 12 free throws, it's hard to win."
Junior Brady Skeens led the Cougars with 17 points, including hitting 10 of 13 free throw attempts. Senior Marcus McNeace added eight points.
The Cougars enter winter break one game better than last season's 2-3 mark. SM Northwest won just five more games after winter break last season, and though it is still breaking in a roster with multiple players new to the varsity stage, Skeens said he can already notice a change in mindset from a year ago.
"We definitely have the mentality of expecting to win instead of hoping to win," Skeens said.
It just wasn't in the cards on Monday. The Raiders built their first half lead largely on out-rebounding the Cougars and holding SM Northwest without a score on even its longer possessions.
"They beat us on the boards, where in all of our other games so far we beat (the other team) on the boards," Skeens said. "Which really didn't help at all, because they got more shot opportunities — which they hit."
SM South made good on enough shot opportunities out of the timeout called after the Cougars pulled within three — the Raiders erupted for an 11-1 run and didn't look back.