SMNW

girls weather pair of storms to down

SM

South, 38-34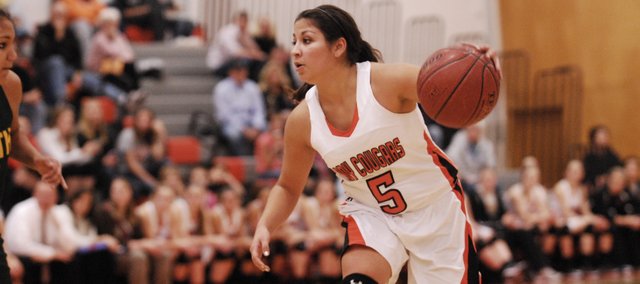 After Saturday's frustrating 50-43 loss at Washburn Rural, members of the SM Northwest girls basketball team wanted to win so bad on Monday against SM South, they nearly lost their second straight.
The Cougars piled up enough early fouls on defense to force coach Jeff Dickson to turn to his bench throughout the first half, and the Cougars fell behind, 17-12, at halftime.
But a 13-2 third quarter by the Cougars kept them perfect in league play as senior Anna King (12 points, four rebounds) and junior McKayla Ross (nine points, five rebounds) led SM Northwest to a 38-34 victory.
King and Ross each scored five points during their third-quarter rally. But the Raiders weren't about to go away easily. SM Northwest's 25-19 lead at the end of the third quarter was erased by a 7-0 SM South run. Baskets from freshman Brenni Rose and King ended the Cougars' drought, and senior Kristina Purinton hit a three-pointer with 1:57 left to extend SM Northwest's lead to four. Purinton finished the game with six points and four rebounds.
Both Ross and Purinton went 2 for 2 at the free throw line to keep a stranglehold on the lead in the game's final moments.
The Cougars improved to 5-1 to enter winter break. Stay tuned to shawneedispatch.com this week for comments from Dickson, King and Ross reflecting on the season's start and what the break has in store for the team.