'Split personality' leads Shawnee author down storied career path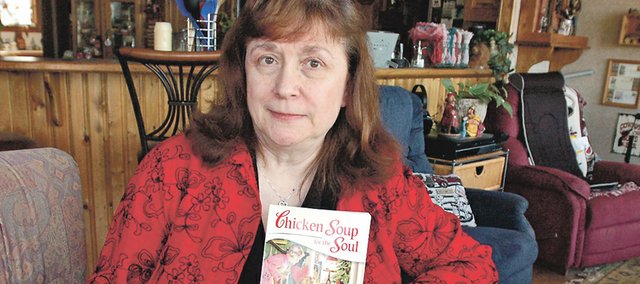 Carolyn Hall of Shawnee has a lot of stories to tell, and she dearly loves to tell them.
She loves to tell stories so much, she said, that she's received a lot of good-natured teasing over the years from her three grown children, who have a well-worn saying for the stories they've heard over and over again: "That's a mom story."
But all teasing aside, Hall is also making a name for herself, as well as a profit, off her stories, which have been featured in a number of publications, including the inspirational "Chicken Soup for the Soul" series. The most recent "Chicken Soup" book, called "Chicken Soup for the Soul: The Gift of Christmas," was released in October and features Hall's short story about a different kind of family reunion called "Merry Ex-mas."

Another Shawnee resident, Patti Ann Thompson, also had a short story, called "Love in a Book," featured in "The Gift of Christmas."
In Hall's story, she and her current husband, John, spend the Christmas holiday in a condo in Colorado with all of the family, including Hall's ex-husband and his current wife.
Instead of the frequent squabbling one might expect would result from exes and new spouses living under one roof, the week went surprisingly well.
"We all got along, we played games, we ate all our meals together," Hall recalled. The story goes on to even describe friendly snowball fights, games of Scrabble and a sleigh ride.
Sound too good to be true? Actually, "it's 100 percent true," Hall said, as all "Chicken Soup" stories are required to be. By now, she is well-versed on the "Chicken Soup" story submission guidelines — she's had her short stories published in seven different books in the series.
But her first published works were created back in high school in Otis, where she served as editor of the Otis High School newspaper. The experience proved to be great training ground for the kind of creative writing and poetry Hall later would excel in.
"When you have 120 kids and you come out once a month, everybody knows the news. So we turned it more into a creative writing" publication, Hall said. "We actually published more creative writing than news stories."
Hall's substantial body of work also includes a cookbook memoir, called "Prairie Meals and Memories," published in 2009. In 2011, that book, which includes memories of Hall's life growing up on a farm intermixed with traditional recipes, made it on the Kansas Sesquicentennial Celebration's list of "150 Best Kansas Books."

Hall originally entered college at Kansas University to study English, but she later changed her major, deciding to become a dietician. After her final year of college at Kansas University Medical Center in Kansas City, Kan., Hall got a job working as a registered dietitian for nursing homes across the state. A blood clot scare at the age of 40, however, put an end to the long car rides and her career.
"I ended up getting three blood clots in my lungs," said Hall, who is now 61. She spent nine days in intensive care after the clots were discovered. "That's when I decided I needed to do something else, so I started writing."
It's not just for health reasons, though, that Hall can't sit still for long.
"I get bored," she said, so she also prepares tax returns for H&R Block, conducts projects for the Census Bureau and is currently studying to become a paralegal.
"I must have a split personality," she said. "It's kind of fun to look at people's taxes and see ways to improve or help or explain it to them."
More writing projects are on the horizon, as well. Hall said she's currently working on a children's book, and she has other plans, too.
"My dream is to write a mystery," she said. "I'd like to scare people. I'd like to branch out."
She's not talking Stephen King-scary, she quickly clarified.
"I'm talking Mary Higgins Clark," she said. "It would be a cozy mystery."