Retiring fire official a trailblazer, 'motherly' figure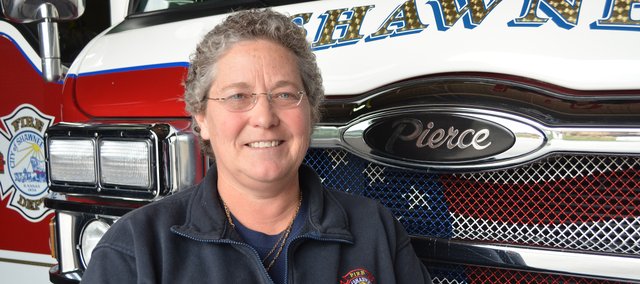 Reception
A retirement reception for Capt. Joan Moore will take place from 4 p.m. to 6 p.m. Friday, Dec. 21 at Shawnee Town Hall, 11600 Johnson Drive. The public is invited.
Always up for a challenge, Capt. Joan Moore incorporated skills ranging from scuba diving to bagpipe music into a nearly 30-year career as a Shawnee firefighter.
Of course, fighting fires is also challenging and was considered especially so for a woman when Moore became a volunteer firefighter in 1983.
Moore, who will retire at age 51 on Dec. 22, said the years of lugging heavy gear, pulling hose, climbing ladders and crawling through burning buildings — not to mention the stress and sleepless nights — had taken their toll.
"The mind and heart are still there, but the body's just wore out," she said Friday, a few hours before responding to two overnight fires.
They call her 'Mom'
But Moore, a paid member of the Shawnee Fire Department since 1990, said she'd miss the job and her firefighting family, including many she has helped climb the fire-service ladder.
"They call me Mom," she said.
Shawnee Fire Chief John Mattox, the sixth chief Moore has served with, agreed that "she does have that motherly aura about her." But more than anything, he'll remember Moore as a dedicated team member.
"Every morning she has worked while I've been fire marshal and chief, she has come by my door and said, 'Is there anything you need done today?'" Mattox said. "I'd say she's asked that 99.9 percent of the days that she's been on duty and I've been here for the past 10 years.
"She hasn't backed down from anything and has excelled at most everything she's attempted. We'll miss her, no doubt."
Born to serve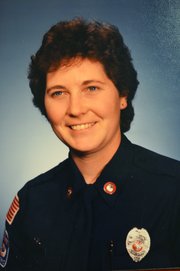 Growing up in Shawnee, Moore always envisioned herself in a career that would allow her to help others, and by the time she was a teenager she was focusing on becoming a paramedic, maybe even a combat medic.
Toward that end, she tried to join the Shawnee Fire Department's volunteer rescue squad after graduating from high school in 1979. But she was just 17, a year too young to join Shawnee Rescue. So she took some pre-med classes, with the soon-abandoned idea of becoming a physician, and started a string of odd jobs.
One of those was at Jodi's Drive-in, a restaurant her father, Dan Sailler, ran for more than 20 years near 75th and Switzer streets. "The Jodi Burger (like the restaurant) was named after me and my cousin Diane," Moore said.
Moore finally became a volunteer emergency medical technician with Shawnee Rescue in 1981, she said. And two years later, she began serving the city in both volunteer firefighting and EMT capacities.
"Firefighting was not my first career choice," Moore said. "But as an EMT, I would go out on fire calls, and soon I was saying, 'That's what I want to do.'"
Thus, she shifted all of her volunteer efforts to the firefighting side in 1986 and was rewarded for her efforts four years later, when she became the second female, and the first full-time firefighting female, on the local department's paid staff.
Upon becoming a volunteer firefighter a few years earlier, Moore had been aware that "one or two men didn't want me there."
They believed in her
"But there also were men who saw my potential, interest and drive and took me under their wing," she said.
Three of them were volunteer firefighting brothers Johnny, Mike and J.T. Baier, who along with Moore became known as "Goldilocks and the Three Baiers." Another was Lou Moore, who eventually became her husband.
A volunteer captain with the fire department, he gave Moore one of her 1980s odd jobs, as a welder for his business. And in 1984, he asked her to serve on the department's truck company. The first truck company in Johnson County, it involved "high, hard and heavy" duties such as scaling aerial-truck ladders and breaking down doors to rescue people.
Only 2 percent of U.S. firefighters today are women, and full-time female firefighters were nearly nonexistent back then, Moore said. But Lou Moore believed in her — as her parents had.
Always a tomboy, Moore said she grew up with a mom and dad who told her, "You can do whatever you put your mind to."
One reason she eventually set her sights on a firefighting career was the fact she loves working outdoors. But women — and men — in that boat aren't all cut out for the fire service.
More than a job
"You've got to have a passion for this because it's not just a job; it's a lifestyle," Moore said. "Once you take it on, this is your family and your life."
In addition to the hazardous duty and 24-hour shifts (121 of them each year), firefighters must carry around some unpleasant memories, she said.
"Some of it, you'll never forget — like when we lost John Glaser," she said of the 33-year-old Shawnee fireman who died while searching a burning home for trapped occupants in May 2010. "It was like watching a slow-motion movie when they brought him out, and sometimes it just replays."
Moore, who has Scottish and Irish roots, wasn't the bagpiper who played during services for Glaser. But taken by the solemn skirl of the instrument, a tradition at firefighters' funerals, she had joined the Kansas City St. Andrew Pipes and Drums team in 1979 to learn to play the bagpipes.
Today, Moore continues to play for events such as Shawnee's annual Veterans Day services. But she gave up her membership in St. Andrew after 10 years to focus more on her career.
During that career, Moore became a charter member of the fire department's honor guard and its water rescue team, as well as an instructor for its swift-water and ice rescue teams.
Pulling away from a 1997 water-rescue meeting in Overland Park, Moore and a colleague saw the black smoke billowing miles away from the fire that destroyed Shawnee Village Bowl.
But the blaze she remembers most is the early 1990s fire that destroyed the Shawnee American Legion hall.
Moore and Michael Whim had been up all night painting plaques to present the next day during the department's annual awards dinner — scheduled to take place at the Legion hall.
Upon hearing the call, she and Whim raced to the scene in a fire truck Moore had washed earlier that January night. And upon arriving, Whim couldn't get out; the door was frozen shut.
Later, after helping extricate Whim and joining the losing battle to save the hall, Moore told Whim, "I guess we painted all those plaques for nothing."
That's the type of humor firefighters often use to get through dark and stressful situations, Moore said.
Fortunately, her career also has been punctuated by plenty of gratifying calls, such as the many "code saves" she has been part of. Once, for instance, Moore responded to a home where a man suffering chest pains collapsed in a code blue situation. So her crew performed CPR and shocked the man with an automated external defibrillator.
"Then Med-Act showed up and intubated him," Moore recalled. "And as we were loading him on the cot to take him to the ambulance, he woke up, pulled the tube out, shook our hands and said, 'Thank you.'"
Moore said she knows she's going to miss the calls and the camaraderie. But she expects retirement to include lots to satisfy her penchant for challenges.
She and her husband have a second home in Mexico, where Moore may pass on her scuba skills as a dive master. She also plans to tour the United States on her Harley-Davidson 2002 Firefighter Special Road King.
Yes, that's Joan Moore's idea of slowing down.