Mill Valley's Windmiller commits to Missouri Western State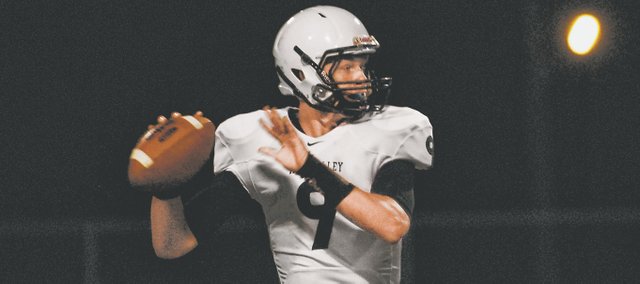 A little more than a month after his high school career concluded, Mill Valley senior Skyler Windmiller has decided where he will continue to play football.
Last week, on a visit to Missouri Western State University, the three-year starting quarterback for the Jaguars verbally committed to the Division II program.
"I love their whole coaching staff," Windmiller said. "They're a bunch of great guys. I got to hang out with all the players and was made to feel like I was part of the team already."
Windmiller quarterbacked an offense that averaged more than 49 points per game, and helped lead the Jaguars to an 8-2 record and undefeated run in Kaw Valley League play. The 6-foot-3, 190-pound passer was also recruited by Kansas University, Northern Illinois, Oklahoma State, Tennessee and Tulsa at times during his high school career, according to rivals.com. He said Missouri Western became the first school to offer him a scholarship during his senior season.
Windmiller passed for 6,352 yards and 74 touchdowns over three seasons, and added another 1,219 yards rushing with 19 touchdowns. Despite leaving most of the Jaguars' 2012 games early with victories well in hand, Windmiller completed career bests in passing yards (2,231), passing touchdowns (28), rushing yards (586) and rushing touchdowns (10). Windmiller also scored six total touchdowns in three seprate games.
"You look at the numbers he put up at the quarterback position and, to be honest, this year he did not really get a full seasons of games," Mill Valley coach Joel Applebee said, "it really is attributed to our whole team concept. He worked very hard, as they all did."
This actually marks the second time Applebee has sent a quarterback to play for the Griffins, which won the Mid-America Intercollegiate Athletic Association championship last season. When Applebee coached at Derby High, quarterback Tyler Harrison committed to Missouri Western.
Windmiller said he anticipates redshirting his first season before competing for playing time the following year. It will be tough not taking the field for a change once fall returns, but Windmiller — often dubbed a "student of the game" by Applebee — will have plenty to keep him occupied as he adjusts to the next level.
Next month, Windmiller plans to start part of that process early by working with quarterbacks coach Skip Stitzell, from whom Windmiller has been learning since middle school.
"As he continues to grow and study to be better than what he is," Applebee said, "I see nothing but bright things in his future."
Applebee said between four to six additional seniors may sign with colleges in the next few months.