Chamber learns about economic gardening, other tools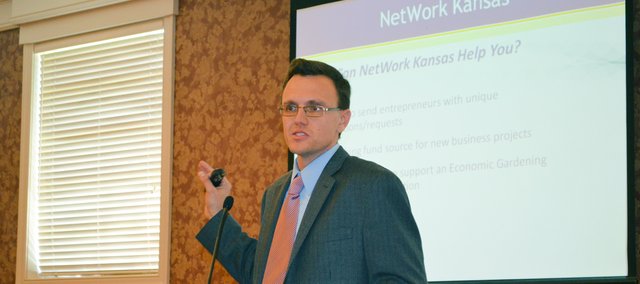 NetWork Kansas, an economic development organization the Legislature created through the Kansas Economic Growth Act of 2004, hasn't made nearly the splash that another organization created by the act, the Kansas Bioscience Authority, has.
That's largely because of the fact that, if one created a bar graph comparing NetWork Kansas' state funding to the bioscience authority's nearly $600 million, "you wouldn't even be able to see our bar," Corey Mohn told the Shawnee Chamber of Commerce recently.
But Mohn, a Shawnee resident and guest speaker for the chamber's November luncheon, is helping to raise the profile of his organization while helping entrepreneurs and small businesses thrive without big grants like the bioscience authority can dish out.
Mohn, NetWork Kansas' director of statewide programming, said one way his organization has been achieving those goals is through a concept known as "economic gardening."
Economic gardening, he said, was pioneered in Littleton, Colo., in the 1980s, when that state was in a recession. An alternative to traditional economic development practices, it is based on the work of a Massachusetts Institute of Technology researcher who noticed that most jobs in any community are created by existing, high-growth small businesses.
The economic gardening program administered by NetWork Kansas focuses on such companies, asking communities to identify three to seven such businesses with five to 100 employees and revenue between $600,000 and $50 million.
In exchange for community contributions of $1,750 for each of those businesses, Mohn said, NetWork Kansas will match the funding in order to provide the companies with business-intelligence tools. These include sophisticated databases to identify market trends, potential partners and other resources buried within company and industry data; geographic information systems, or GIS; search-engine optimization tools; and social media monitoring applications.
One of the poster children for the new Kansas Economic Gardening Network program, Mohn said, is The Porch Swing, an internet retailer based in Marysville.
Benefiting from tools like GIS mapping, which revealed an extraordinary level of sales on the East Coast and allowed The Porch Swing to better target its advertising, the company was able to increase sales by 40 percent and reduce marketing costs by 60 percent in one year. In addition, the business's 2011 sales exceeded $1 million for the first time and have continued to grow, Mohn said.
With its increased profits, The Porch Swing owner, Mary Kueny, was able to buy a larger building and warehouse last year, followed by a second building in 2012. And she has expanded her staff from six to 13 employees.
"We had been fumbling with our Internet marketing, and the (Kansas Economic Gardening Network) research team really helped us get it under control, ..." said Kueny, who does 99 percent of her business via the Internet and spends more than $15,000 a month on advertising. "In addition to suggested changes, they also validated what I was doing right, which takes away a lot of nervousness."
Thanks to a recent $13.2 million grant from the U.S. Treasury Department, Mohn said, his organization has also been able to help entrepreneurs and small businesses through a new Kansas Capital Multiplier Loan Fund, which provides low interest matching loans equaling 9 percent of private capital, and the Kansas Capital Multiplier Venture Fund, which provides a 9 percent match on private equity.
KCBioMedix, a Shawnee-based firm specializing in neonatal feeding solutions, was one of the first Kansas companies to receive capital injections through the venture fund, Mohn said.
Some of NetWork Kansas' programs are restricted to rural and distressed urban areas, he added. But all local startups and small businesses can benefit from NetWork Kansas' Referral Center, a one-stop shop for information from more than 500 nonprofit and government-agency partners dedicated to helping growing firms.