Drummer from Shawnee triumphant onstage after loss of leg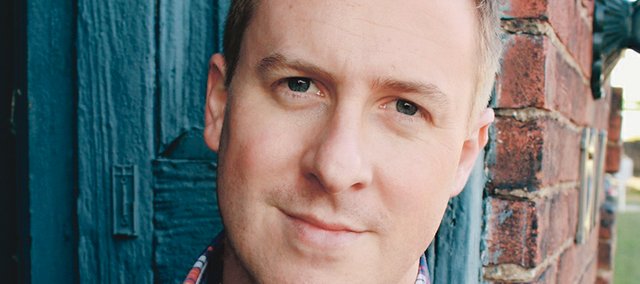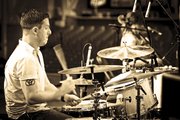 In August of 2005, 28-year-old Billy Brimblecom went through surgery to remove his left leg.
Earlier that year, doctors had identified the source of the pain Brimblecom had been experiencing in the leg for several years: Ewing's sarcoma, a cancer of the bone. Brimblecom had always attributed the pain he would feel off and on to an earlier car accident. But worsening pain had motivated the trip to the doctor's office, where multiple tests, including a biopsy, led to the discovery of the cancer.
"They said, 'Here's what we'll do. We're going to try to do everything we can to remove the cancer,'" Brimblecom, a professional drummer and actor, recalled. But doctors warned that losing his leg, "in an effort to save your life," was also a possibility.
That possibility soon turned into inevitability, and Brimblecom still recalls how he felt in the days and weeks following his surgery to remove his leg above the knee.
"It was terrible. I wouldn't wish it upon anybody," said Brimblecom, who is originally from Shawnee but now resides in Nashville, Tenn. "Definitely it was very painful physically, it was very painful emotionally. It was very scary."
But now, more than seven years later, Brimblecom said things have turned out better than he ever could have imagined.
"The most rewarding experiences of my life happened to me since I had my leg amputated, without a doubt," he said.
Some of those experiences have included meeting his wife, Allison, whom he married in 2007, and touring in Japan with his band, Blackpool Lights, only a year after his surgery. He said he also developed a stronger relationship with God, which he largely credits for getting him through the experience of losing his leg.
"I knew that God had a plan for me, and any strength that I had ultimately came from him," Brimblecom said.
Early musical ambitions
Also getting him through, Brimblecom said, was a lifelong passion for performing and playing music. He's been playing the drums since the sixth grade, and even before that, he said, a love for music was being developed.
"When I was a little kid growing up, my dad was really into music and just always had the radio on," he said. "And my grandmother sang a lot around the house, my mom sang around the house, and my uncle was a musician who played clubs and stuff. So I was exposed to music at a really early age."
Inspired by popular hard rock bands of the day, Brimblecom started his own cover band with friends in middle school, playing Def Leppard and Guns N' Roses songs.
"Very poorly, I might add," he said with a laugh.
And though it had a "rotating cast of people" through the years, that band lasted through high school at Shawnee Mission North. At that time, Brimblecom was also developing an interest in acting, performing onstage through SM North's award-winning theater program.
"He was easygoing but intense at the same time," recalled longtime SM North theater teacher Maureen Davis. "He played Herod in 'Jesus Christ Superstar' his senior year and also played the drums in the pit, not an easy feat. He could juggle so many things at the same time and do it spectacularly."
Right around the time of his high school graduation in 1995, Brimblecom got hired to perform improv comedy at Comedy Sportz, now known as Comedy City, in Kansas City, Mo., where he would stay as a frequent performer until 2002. Fellow performers at the improv comedy club at the time included Saturday Night Live cast member Jason Sudeikis, one of Brimblecom's "best buddies."
In the fall of that year, Brimblecom also enrolled at Kansas University, where he lasted one semester.
"I was failing out of college by my own design," Brimblecom said. "I barely went to any classes that didn't involve hitting drums."
He also dropped out, he said, to devote more time to playing music. He joined the now-defunct Lawrence hard rock band Stick and then, in 1997, formed the band Creature Comforts with "three of my closest buddies to this day."
"Creature Comforts was this thing where we were all, like, really on the same page," Brimblecom said. "It was one of two of my greatest band experiences that I've ever had."
The second, Brimblecom said, was Blackpool Lights, which he formed in 2004 with Jim Suptic of Kansas City-based alternative band The Get Up Kids.
Pulling through
Brimblecom said he was released from the hospital about a week after his surgery and, by the end of 2005, had gone through 13 rounds of chemotherapy. In the beginning, he said, the thought had crossed his mind that he might not be able to play the drums again. But determination and a characteristic positive attitude won out over any initial doubts.
"I had kind of worked out the science of it in my head, like how I could make it work," Brimblecom said, "and I was right."
With the help of his first, temporary prosthetic leg, which he received in October of 2005, Brimblecom went to work.
"I was drumming pretty well way before I was walking well," he said. "It wasn't easy. I just worked really hard at it."
The hard work paid off, and Brimblecom was touring with Blackpool Lights by the next year.
"I realize I kind of have this survival instinct, this kind of fight or flight thing," he said of the experience. "And I was just like, let's get through this."
He also received support from friends, who rallied together in 2006 to stage two benefit shows in one day at the Record Bar in Kansas City, Mo., raising the $30,000 Brimblecom needed to purchase a $60,000 permanent prosthetic leg, of which insurance would only pay half.
"It was a very humbling and overwhelming display of care and love from a lot of people that I knew and a lot of people that I didn't know, and I had friends fly in from all over the country to take part in it," Brimblecom said. "It was incredible. It was one of the most memorable days of my life honestly."
Now what?
Now living in Nashville, where he moved in 2009 "in search of a better living," Brimblecom is finding success both as a professional musician and actor. In November, he performed onstage in a small, off-Broadway production of "Son of a Gun," a new semi-autobiographical musical about a family band from Appalachia written by Kansas City-based musician and music producer Don Chaffer. Brimblecom also worked with Chaffer on writing music for the show.

"We're talking with investors and interested New York theaters about what the next move is," Brimblecom said of the show. "Hopefully, there will be another production, a larger production, in the summer. We've got our fingers crossed."
He's also been working as a "freelance musician," playing drums for well-known Nashville-based musicians such as Katie Herzig and Matthew Perryman Jones.
But while life is good in Nashville, Brimblecom wants to make this clear:
"I think Kansas City's a better city ... but there were not the resources that I needed to make a living as a musician here full time."
Thankfully, the cancer hasn't come back, but Brimblecom said he'll always have "a constant reminder" where his leg used to be.
"My leg is not going to grow back, not here on Earth," he said. So it's a "reminder to not sweat the petty things and to keep in mind that we're here for a reason."