Five questions: Looking ahead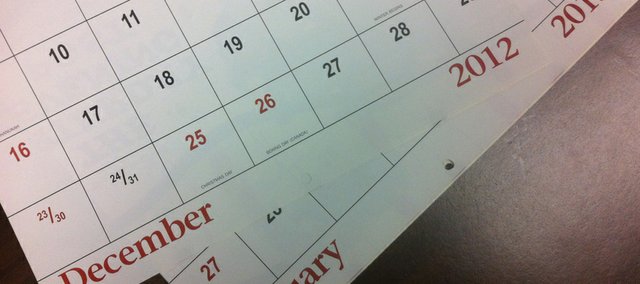 Denise Sullivan, K-State Research and Extension family and consumer sciences agent for Leavenworth County, discusses tips on mental and physical health heading into 2013.
Q: The holidays are joyous for many. How can residents continue that state of mind in 2013?
A: There is much research on how expressions of gratitude and blessing impact both our physical and mental health.
Q: Are there any pitfalls people can face after the holidays?
A: The excitement and busyness of the holidays can lead to physical, mental and emotional fatigue, disrupting our "normal" routines. It's important to return to healthy eating, sleeping and physical activity habits as soon as possible. Another post-holiday downer can be credit card statements. Start a dedicated savings account to start saving for next year's gift giving.
Q: Is it good to create a list of New Year's resolutions?
A: New Year's resolutions aren't bad ideas, but our approach might need some adjustment. Rather than just making a resolution, apply the principles of SMART goal setting: Is my goal Specific, Measurable, Action-oriented, Realistic and Time-dated?
Q: How can people improve their mental health through the winter?
A: These months tend to drive us indoors, often reducing both our physical activity and exposure to natural light, both of which impact our mental health. Even when it is cold, we need to keep regular physical activity — at least 30 minutes daily — a priority.
Q: Any other advice?
A: It's a great time to assess our personal resources and those in our community. When considering your post-holiday survival plan, see what help you can find at the library, parks and recreation and, of course, K-State Research and Extension. We have resources regarding food, finances and family life, to name a few.