His career just may have some legs: Shawnee native invited to January Major League Soccer combine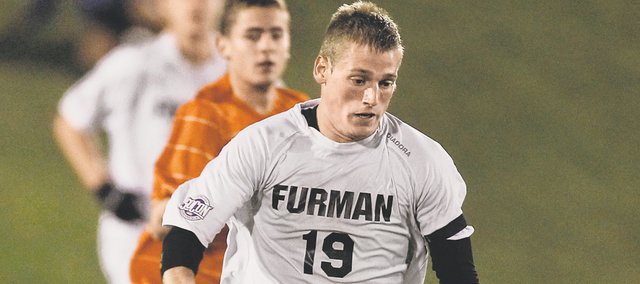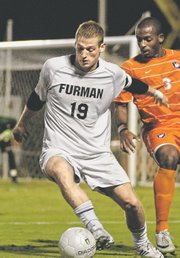 Todd Henning figured that if he could just get his then-middle school son Coleton interested in other sports and activities, maybe he wouldn't get burned out on soccer. Maybe he'd see, after already more than half a dozen years of soccer saturation, that there was something else out there.
Yet after each day of football or baseball practice, sports at which he also excelled, Coleton would be in the back of the family car peeling off his pads in exchange for a soccer jersey, the car pointed toward a club soccer practice scheduled that same evening.
Eleven years later, Coleton Henning — who was born in Oklahoma and lived in Indianapolis until moving to Shawnee in fifth grade — has left behind a trail long on accolades: Gatorade Kansas Player of the Year awards, multiple All-Americas and four-straight state titles at St. Thomas Aquinas, and a string of All-America honors at Division I Furman University in South Carolina.
His next act will be his biggest: Earlier this month, Coleton became one of 54 Division I seniors to be invited to the Jan. 11-15 Major League Soccer combine in Fort Lauderdale, Fla., just days before the 2013 MLS SuperDraft dictates the fates of dozens of professional soccer hopefuls.
"I've always said he's the next guy from the Kansas City area to play in the league," St. Thomas Aquinas soccer coach Craig Ewing said.
But Coleton's path here was not without its valleys. The eve of his most pressure-packed moment follows by not long three separate devastating injuries in high school and college — each alone capable of derailing a career.
That he came back from them is one thing. How he has played each time back is quite another. Family, coaches and former high school teammates — among whom include current Sporting Kansas City players Michael Thomas and Kyle Miller — will tell you that, if anything, those injuries shaped the Coleton now preparing for an audition he learned about barely two weeks ago.
Empirical evidence supports what is often said of Coleton: Each time he's been sent crashing to the turf, he's sprung up stronger.
"He knew what it was like when he was hurt," Todd Henning said, "and he didn't like that."
'Coleton and the Miracles'
Included among the people Coleton first called after he received an email invitation to the MLS combine was Thomas, now a midfielder for Sporting Kansas City after playing in Sweden for more than a year out of Notre Dame.
Thomas graduated from St. Thomas Aquinas two years before Coleton, with Miller graduating a year between the two. The trio's careers overlapped during a dynastic Saints run that produced nine straight state titles and national exposure.
Coleton's youth soccer career was nearly as decorated. Todd Henning, learning the sport as he went along, signed on to coach Coleton's recreational league team, allowing him to play at 4 instead of its age 6 requirement. From there, Coleton would go on to win three national titles at the club level and another indoor national title. Coleton's club career continued during high school offseasons, as his Kansas City Futbol Club went on to win five state championships.
"He was somebody who came into Aquinas and made an immediate impact as a freshman," Thomas said. "He came in and I knew right away that this kid was going to be good."
But Thomas' and Hennings' time on the field together was briefer than their age difference predetermined.
In back-to-back seasons, Coleton suffered season-ending injuries to each of his respective anterior cruciate ligaments, each in the same early season tournament.
After each injury, Todd Henning said, Coleton bounced back by competing the following summers in Germany and Austria, and Central America, respectively. One year, he went to rehab five days a week instead of the two scheduled for him.
"He saw the results of hard work at a really young age and I think that really defined him," Todd Henning said.
By the time Coleton's senior year arrived, his supporting cast wasn't nearly as dominant as that of his first two shortened varsity seasons.
The Saints were "unreal" for awhile, Ewing said. But even when they weren't, with Henning at the helm they still captured yet another state title and maintained their dominance.
"Really, he just kind of drug the team across the finish line," Ewing said of Henning's 27-goal senior year, second best in team history.
Coleton and the Miracles, read one headline after the game. It referred to the improbable nature of the Saints' latest title run, a Goliath playing Cinderella for a change. It could just as easily have begun to tell the story of Coleton Henning's soccer career.
Fall and rise
Even after nearly five years living in South Carolina, Coleton Henning still doesn't favor grits.
"I've definitely missed my mother's home cooking," Coleton said by phone. "Everything has grits — even in the mornings."
Though the self-described "Midwestern kid" never quite acquiesced to southern culture, Coleton seemed to fit in on the Paladins' men's soccer team right away. He earned the Southern Conference Freshman of the Year award and received first-team All-Conference honors after scoring a team-high seven goals and four assists. He started all 18 games the following year. But just as the Paladins looked poised for a spirited run at the NCAA tournament during what was to be Coleton's junior season, an all-too-familiar sensation screamed in his left knee, years after playing uninhibited by such an injury.
While competing for the then-Kansas City Wizards' developmental team in a game in Minnesota, Henning was taken down from behind, shelving him for a junior season yet to begin.
For every story about a gifted athlete like Minnesota Vikings running back Adrian Peterson coming back from an ACL injury at full strength, there are scores more of athletes who would never again be the same.
But, three times now, Coleton's recovery has sent him to heights higher than those at which he suffered his injuries in the first place. After earning a medical redshirt, Coleton's second take of a junior season in 2011 saw him capture the Southern Conference Player of the Year award and a host of other accolades after scoring seven goals with four assists to lead the Paladins to an NCAA tournament berth.
"He's not injury prone," Todd Henning said. "He's a blue-collar worker who's not afraid of anything. Every tackle he attempts is like the last tackle ever. He's never shied away."
Coleton finished his college career as the first three-time first-team All-Conference honoree at Furman in more than five years.
Today, Coleton considers his next move with a bittersweet taste left from his final season, in which the Paladins failed to return to the tournament. But before long, his tone turns reflective as he talks about growing up on and off the field at Furman — how Paladins coach Doug Allison mentored him "like a father away from home." Coleton said he moved around, playing different positions in his time at Furman — although he still refuses to ever play goalkeeper — always sure that the end result would be consistent with what Allison ensured when the two first met.
"Playing for a good soccer program at Division I was the goal coming out of high school," Coleton said. "Then the next goal was the combine."
'Control what you can control'
Thomas, who was born in Olathe, says he's living his dream right now and that his former high school teammate has the work ethic and soccer mind to do the same, be it here or overseas.
But before Thomas could reach this point he, too, had to participate in the weeklong combine, a series of matches between teams whose teammates are also competing with one another for the attention of MLS coaches and scouts.
Those observers, Thomas said, will be watching to see not only how well an athlete shines individually but if he can bring together a team of athletes unaware of each other's strengths and weaknesses.
Thomas called Coleton a very good force at pressing the ball forward on the field, an intelligent player with the toolkit to make it at the next level.
"He's just so smart off the ball," Thomas said. "Somebody who's always offering options and making runs deeper. Whether he plays forward or center midfielder, he has a very good knack for the goal. He can score important goals at important times."
As of now, per several online mock drafts, Henning is not projected to be picked in the first round of next month's two-round draft. Most online mock drafts, however, only project the first 19 of the draft's 38 picks.
And though Sporting Kansas City would be an obviously ideal destination — six Kansas City-area players are on the roster, and Henning is familiar with coach Peter Vermes — the Hennings know Sporting Kansas City is set at the midfielder position.
Then again, it was just this summer that Coleton's younger brother, Clayton, figured a call from Kansas City or Texas was imminent during Major League Baseball's draft, only to be selected by Tampa Bay in the 11th round.
Coleton knows he's in no position to choose his destination.
"Put me somewhere out in the snow and I'd be happy," he said. "I think it definitely helps me to be flexible and having a family willing to drop everything and fly out to see you."
Added Todd Henning: "Our kids are our life. Wherever he lands, we'll be there. No doubt about it."
You'd be amazed to know how simple the advice becomes the deeper you get in soccer. On the cusp of a shot at playing professionally, Coleton phoned Thomas to discuss what to expect at the combine.
The better your team plays at the combine, Thomas told him, the better you look individually. Soccer is a funny sport, he added: If you're determined — and, of course, good enough — you can adapt to the next level.
Most of all, Thomas said, if Coleton simply plays as himself amid other MLS hopefuls perhaps trying too hard, he'll have as good a shot as any at a bright future.
For Coleton, that means pursuing each 50-50 ball as if it's the last he'll ever contend.
"Control what you can control," is how he puts it. "No one is going to win that header. Those are the things I can control — attack the runners, do the simple things."
More like this story