Building owner seeks another bar for vacant downtown space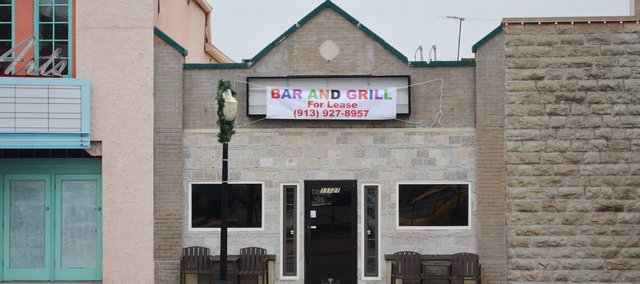 For as long as most can remember, the space at 11121 Johnson Drive has been a place where locals gathered to tip a few, shoot the bull and rehash actions taken across the street at City Hall.
Alan Turner, who owns the historic space on the south side of the square, wants to keep it that way. Thus, when the last occupant, Mucked Bar purveyor Brandon Burch, moved his operation to larger quarters at 10923 Shawnee Mission Parkway, Turner hung a banner across the stone face that reads "Bar and Grill for Lease."
"With the hood and exhaust and everything, I have a lot of money wrapped up in it as a bar," Turner said. "There's always been a bar there."
And if someone can come up with about $2,500 a month for rent, he said, there should be another bar there soon.
Burch, who has renamed his establishment The Parkway, said he decided to move because he wanted more room to add attractions like pool tables and video games to the free nightly poker games that were a big draw at Mucked Bar. Burch, also hoping for more traffic, added that the downtown area surrounding City Hall "is not the hub it used to be."
But Shawnee City Councilman Dan Pflumm, who owns the former Commerce Bank space just east of the bar space, said "it's a great location."
"It would be a nice place if somebody just cleaned it up," Pflumm said.
And if Wade Williams, who bought the old Aztec Theatre building from the Pflumm family several years ago, finally renovates and reopens it next year, as one of Williams' partners recently hinted, the bar could thrive like it did in the old days.
Pflumm remembers when Bill Holder ran a tavern called Bill & Beth's Place in the space next to the Aztec.
"All our dads went there," Pflumm said of locals in his generation, "and we did, too, after we got out of high school. It was the place to get caught up on all the gossip."
Turner said he bought the establishment from the Holders in 1987, the year after Kansans finally voted to repeal the prohibition of open saloons in the state, allowing the tavern to become a bar.
After operating the bar under the Bill & Beth's name for a short period, Turner leased it to Michael Jackson, who changed the name to the Regal Beagle, and then JoAnn Macaulay, who ran it as the Court of Appeals until closing and making way for the Mucked Bar about a year ago.