A look back at 2012
Major fires, job losses among year's top stories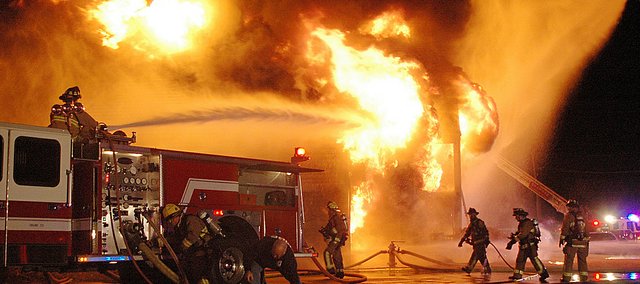 The world didn't end this year, as some doomsayers prognosticated.
But 2012 didn't bring heaven on Earth, either. In fact, it often delivered the opposite, as evidenced by a look back at the national headlines.
Indeed, the year will be long remembered for two terrors named Sandy — the late-October superstorm that left 125 dead along the East Coast and a man-made tragedy in which 26 people — including 20 children ages 6 and 7 — were killed Dec. 14 by a 20-year-old gunman at an elementary school in Newtown, Conn.
The Sandy Hook mass shooting was the worst but not the first of 2012. On July 20, a 24-year-old gunman entered a midnight screening of the new Batman movie in Aurora, Colo., and opened fire, killing 12 and injuring at least 58. And others included the Aug. 5 shooting that left seven dead at a Wisconsin Sikh temple and an Oregon mall shooting — just three days before Sandy Hook — that left three dead.
The events played out during a scorching year in which the worst U.S. drought since the 1930s Dust Bowl took an economic toll in the neighborhood of the $100 billion — the same astronomical damage level estimated for Superstorm Sandy.
Locally, the top news stories of 2012 included less cataclysmic events: the exit of a 700-job corporate headquarters, turmoil at City Hall and a sweep by conservative Statehouse candidates supporting a drastic tax cut measure that, if not successful, could lead to drastic state spending cuts for education and other services.
But we start the look back at 2012 with a couple of stories that shared the hellish theme established on the national stage.
3 apartment fires, 2 deaths
Heading into 2012, a Shawnee fire had not caused a citizen fatality in more than 10 years. That changed on Feb. 17, when food left in a pan on the stove started an early-morning fire that killed a young man and woman at 11601 W. 75th Terrace in the Carlyle Apartments.
JaMaur Smith, 23, and Jay'd Griffin, 21, died of smoke inhalation in their apartment, where fire investigators found a smoke detector, its battery removed.
One victim was found on the bedroom floor, the other on the living room floor, indicating they were probably trying to escape but were overcome by toxic smoke, Shawnee Fire Chief John Mattox said.
It was the second of three major apartment fires within a 10-day period in Shawnee. Fortunately, no one was injured in the other two fires.
On the evening of Feb. 14, firefighters had rescued a man trapped on a second-floor balcony at 7608 Goddard St. in the Fox Run apartment complex. Upon arriving on the scene, firefighters saw flames shooting from the back of the building, and it took more than two hours to get the two-alarm fire under control.
Causes were not determined for that fire or a three-alarm fire on Feb. 23 that engulfed one building and forced evacuation of four others at the Hampton Woods complex near 67th Street and Renner Road.
There, firefighters encountered heavy smoke and flames near the burning building's ground level upon arriving shortly after the 7:15 p.m. alarm.
"It didn't take but a couple minutes for that first floor to collapse into the lower level," Mattox said.
Two fire crews that had been battling the Hampton Woods fire from inside the building retreated at that point to prevent the repeat of a May 2010 tragedy — the loss of John Glaser, who became the first Shawnee firefighter lost in the line of duty while searching a burning home.
As firefighters battled the Hampton Woods fire defensively from outside the building, heavy gusts of wind fed the flames. The large flames were mostly knocked down by 10 p.m., but only a charred skeleton of the building remained and several pets had perished.
Structural damage from the three apartment fires was estimated at about $2.5 million.
Events trigger debate, prayers
Becky Bieker might have picked a less controversial time than last summer to open her new gun store, She's a Pistol, in downtown Shawnee.
As it happened, a story announcing the store ran in the Aug. 15 issue of The Dispatch — the same issue that featured coverage of a community candlelight vigil at the Shawnee Sikh temple for the six worshippers killed in an Aug. 5 mass shooting at the Sikh temple in Oak Creek, Wis.
Gov. Sam Brownback spoke at the local vigil, describing freedom of religion as the first right protected by the U.S. Constitution. But it was the Second Amendment, not the First, that Shawnee residents were debating in the Dispatch and across the community in the wake of the gun store opening and the mass shootings it was bracketed by.
The debate between those seeking protection of and from gun ownership reached a fever pitch locally and nationally with the Sandy Hook Elementary shooting, which prompted a second candlelight vigil and prayer service at the Shawnee Sikh temple.
The tragedy also prompted the De Soto school district to announce it would revisit building safety measures through meetings of crisis teams made up of teachers, school counselors and school resources officers. And in the Shawnee Mission district, retiring Superintendent Gene Johnson remarked on the tragedy, assuring that "the safety and security of every student and staff member in our school district community is paramount."
Fortunately, Shawnee headed into the final days of 2012 having witnessed no local shooting deaths or murders of any kind during the year.
But murder cases advanced against two defendants accused in shooting deaths during the previous two years.
In April, Michael Trevon Lewis of Kansas City, Kan., was sentenced to life in prison for the first-degree murder of Shawnee resident Curley Tyler, who was found shot to death in the front seat of his Cadillac Escalade on April 4, 2010, in a parking lot at the Cottonwood Park apartment complex.
Tyler, who was 43, made money fixing and renting or selling cars, and on the night before he died, he had called Lewis a dozen times, seeking payment for a Mercedes Benz that Lewis had rented. After completing errands in preparation for his family's Easter celebration, Tyler left to meet Lewis and never returned. According to court testimony, Lewis was behind Tyler in the Escalade when he shot him in the head, then took roughly $2,000 in cash from the victim.
Lewis, who had been a star football player at Schlagle High School, was on parole for a 2005 home invasion robbery at the time of Tyler's murder.
Earlier this month, The Dispatch reported that another murder suspect, 27-year-old Jesus Esqueda-Perez of Shawnee, had pleaded guilty to federal cocaine dealing charges in St. Louis and faces sentencing on Jan. 17.
Esqueda-Perez also stands charged of first-degree murder in Johnson County District Court for the February 2011 death of Oswaldo Conde-Gamboa of Kansas City, Kan. The victim's bullet-pierced body was found shortly after midnight on Feb. 6, 2011, on a desolate stretch of roadway near 43rd Street and Lakecrest Drive in Shawnee.
Economic losses, gains
One of the top local news stories of 2011 was the Shawnee City Council's agreement to extend the life of the Johnson County Landfill by 16 years in exchange for a gradual increase in annual landfill impact fees from $300,000 to $3 million — half of which is to be used to boost economic development.
But the top local economic development story in 2012 was not a positive one.
On June 1, Perceptive Software officials announced they would move their 700-job headquarters four miles south from a leased building in western Shawnee to new construction in the recession-stalled Lenexa City Center development.
Reacting to rumors that Lenexa had sweetened its incentive offer with free land for the new headquarters, Shawnee Mayor Jeff Meyers accused Lenexa of "company stealing" with a whole new can of eco-devo worms.
"All of a sudden, people are going to be expecting free land to be part of incentive packages," Meyers said. "That's not good for the communities, the county or the state."
On July 11, the Lenexa City Council confirmed the rumors. It approved $26 million in tax-increment financing for the Perceptive Software project, including $3.4 million to cover Lenexa's cost of donating 12.4 acres of city-owned land.
Blake Schreck, president of the Lenexa Chamber of Commerce, defended the land donation, noting that Olathe had given away 92 acres in 2006 to attract a Kansas Bioscience Authority business park and adjacent Kansas State University campus. But Meyers bristled again, this time at the magnitude of the overall incentive package.
"Holy cow, that's unheard of," he said of the $26 million — nearly half the $54 million value of two buildings Perceptive software plans to build at the Lenexa site.
In November, Shawnee learned it would lose another large employer. Vistar, a snack and beverage vending company, announced it was moving the Shawnee operation where it employs 70 to 80 people into larger quarters in the Horizons Business Park in Riverside, Mo. Andrew Nave, executive director of the Shawnee Economic Development Council, said Shawnee lost Vistar due to the city's lack of developed sites to pitch to new and expanding industrial businesses.
In August, the City Council took a step toward addressing that shortcoming when it voiced support for city investment in road and utility extensions necessary for the development of Shawnee Eco-Commerce Center, a proposed 422-acre industrial park off 43rd Street west of Kansas Highway 7.
"Go big or go home," Councilman Jeff Vaught said of the step to make Shawnee a player in the hot regional industrial market. "This is an opportunity to do something huge. ... This is something that can be our legacy as a council."
City investment in the industrial park is expected to come from a new economic development fund established with the increased landfill impact fees.
In July, Mayor Meyers said the same fund might be tapped for around $100,000 to support an expansion of the Shawnee-based North American headquarters of Bayer Healthcare LLC, Animal Health Division. The Kansas Bioscience Authority approved a $750,000 state grant to support the expansion, which is expected to add at least 58 new jobs in Shawnee. As the year wound to a close, the city grant for the project had not yet been acted on. But Meyers said the city was intent on keeping the new jobs in Shawnee, where Bayer already employs about 500.
In other positive economic news, Walmart announced in May that it would finally move forward with a Supercenter long planned in the K-7 corridor. And in August, Shawnee's reputation as a mecca for youth activities got a big bounce when Sky Zone Kansas City announced it would open its first indoor trampoline park in 28,000 square feet of the former Hy-Vee store at 6495 Quivira Road.
As the year wound to a close, the City Council, traditionally regarded as stingy with incentives, was poised to consider two more projects, both seeking tax-increment financing, a development tool never before used in Shawnee. An article in the Dispatch this week reports on those projects: a $40 million multifamily and commercial project at K-7 and Johnson Drive and the $17 million redevelopment of Shawnee Parkway Plaza.
Turmoil at City Hall
Mayor Meyers and all four City Council incumbents survived heated races to win re-election in April. But the heat continued following the spring campaigns.
It started with Ward 2 City Councilman David Morris' May 24 resignation. After being questioned about emails between him and City Manager Carol Gonzales that were obtained by The Dispatch, Morris acknowledged that he'd quit due to Gonzales' criticism of the way he dealt with constituent complaints.
After Morris engaged city staff on behalf of a resident with landscaping complaints related to a drainage project, Gonzales wrote, "Staff doesn't see your role as 'advocating for citizens.' They see a council member's role as being part of a team that all works together for the overall good of the community. Based on how you have approached things since being elected, staff members feel like you always believe the citizen and always just assume that we are making big mistakes and not handling things right."
As a result of the perception that he always sided with constituents and against staff, Morris said, he got "put in the doghouse, (where) answers (from staff) don't come particularly quickly and sometimes phone calls don't get returned."
On July 9, the City Council voted 4-2 to appoint Allan Willoughby, the mayor's uncle by marriage, to complete Morris' term. Councilwoman Michelle Distler supported Michael Kemmling, one of five residents who sought the appointment, in part because Kemmling had lost by only 11 votes in this year's Ward 2 race against Neal Sawyer.
But that wasn't the only reason Distler voted against the motion to appoint Willoughby. Distler said she also voted no because she was "told on ( the previous) Thursday that this is who the appointment was going to be," who would make the motion and who would second it.
Gregg Snell, a resident who started videotaping council meetings after the city dispensed with detailed written minutes last year, then grilled the mayor about Distler's contention. And while Meyers denied having called any private meetings to discuss the appointment, he acknowledged he had privately discussed the issue with individuals on the council.
That prompted a July 30 letter to Johnson County District Attorney Steve Howe from Shawnee resident Tony Lauer, who got involved in municipal affairs as a result of a neighborhood issues and stayed involved as a result of open government concerns, among others.
Howe subsequently ordered an investigation into allegations that the mayor and some council members had violated the Kansas Open Meetings Act by discussing Willoughby's appointment outside of a public meeting. That investigation has concluded, Howe said recently. But the DA's office has yet to announce whether KOMA was violated or not.
Nevertheless, the City Council has acted to enhance the transparency of local government, voting 6-1 on Sept. 9 to restore detailed meeting minutes.
That action, however, did not end criticism from Lauer and others who have accused city staff of being slow to respond to Kansas Open Records Act requests. According to Kevin Straub, a former Shawnee councilman, the city rang up about $15,000 in legal fees in determining what it was obligated to release in response to his KORA requests for information relating to city vacation and sick-leave benefits.
Straub was in the news again after bringing to Police Chief Larry Larimore's attention the fact that Mayor Meyers had parked in a handicapped space outside City Hall during the Nov. 13 council meeting. Larimore gave the mayor a written warning rather than a ticket for the offense. But Meyers decided to donate $135 — the amount of the fine he would have had to pay — to the Mayor's Christmas Tree Fund.
Conservatives ride on tax-cut bet
On May 22, Gov. Brownback signed into law massive tax-cut legislation with support from fellow conservatives, including state Sen. Mary Pilcher-Cook, R-Shawnee, and all three Republican House members with districts covering large portions of Shawnee.
The Legislature's research staff forecast that the cuts, totaling $3.7 billion over five years, will lead to annual budget shortfalls that could grow to more than $2.5 billion by 2018. So the cuts subsequently became a predominant election year issue, with conservatives contending they would spark enough economic growth to pay for themselves and moderate Republicans and Democrats warning that state spending for education and other services would be gutted due to the foregone revenue.
Apparently, local voters bought the conservatives' argument.
In the August primary, Pilcher-Cook defeated her moderate Republican challenger, Tom Wertz of Lake Quivira, 64 percent to 36 percent. And the Republican races for the three Shawnee House races were swept by similarly convincing margins by conservatives Brett Hildabrand, John Rubin and Charles Macheers.
In the November general election, Democrats got "a huge consolation" at the top of the ticket, Kathy Cook, acting chairman of the Johnson County Democratic Party, said in reference to President Barack Obama's re-election.
But in Johnson County, Mitt Romney outpolled Obama 58 percent to 40 percent, and Republicans won 32 of 35 state legislative races. Nearly all of those Republican victors were of the conservative stripe, the party's moderate faction having been decimated in the primary. And in Shawnee, the four conservative Republicans seeking state legislative seats again swept.
Macheers, who won election to the 39th District House seat vacated by fellow conservative Owen Donohoe, defeated Democrat Marlys Shulda 63.4 percent to 36.6 percent. Upon winning his first public office, Macheers attributed the convincing margin to an electorate that "agreed with my vision of limited government, fiscal restraint and personal responsibility."
But Cook, the Democratic leader, predicted voters will be singing another tune when the effects of the tax cuts start to be felt.
"In two years, it will be roll back Brownback," she said, sounding the local Democrat's new battle cry. "We're going to see schools taking larger budget cuts and waiting lists for the disabled. And wage earners are going to figure out that they have received small income tax reductions while the owners of the companies they work for have had their income taxes totally eliminated."