Tree service owner races into the speedway business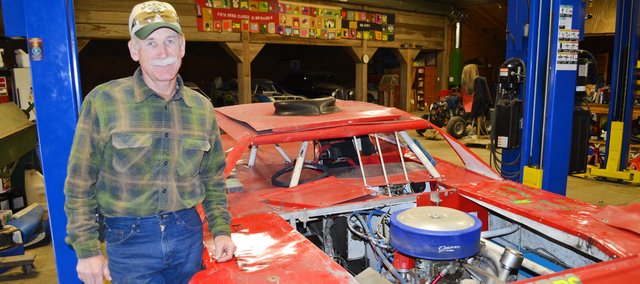 Whether he's rocking a chainsaw in the treetops or racing around a dirt track, Don Marrs of Shawnee is a master of going faster.
Even at 58 years of age, the owner of Marrs Tree Service isn't thinking of slowing down. So when he got the chance to purchase Lakeside Speedway in Kansas City, Kan., recently, Marrs jumped at it full throttle.
Marrs, who has been racing on the dirt at Lakeside and I-35 Speedway in Winston, Mo., for six years, has partnered with I-35 Speedway owner Mike Johnson to purchase Lakeside. Terms of the deal, announced earlier this month, were not disclosed. But given the sum he is putting up for the track, Marrs said, it's clear he was motivated by his love of racing and Lakeside more than by profit projections.
Marrs said he had been talking to Lakeside Speedway owner Marc Olson about buying the track for about four years. After flooding wiped out several racing shows at Lakeside Speedway last year, its dirt track was in great shape for this year's April-though-October season, Marrs said. But after the season, Olson contacted him and Johnson with the news that "he was ready to sell," Marrs said.
"Fortunately, we have been successful enough in our businesses that we can afford to fix it up and run it right," Marrs said of himself and Johnson. "Marc is a good guy and a good friend, and he really did a good job with the track. But we want to make some improvements to make it more driver- and fan-friendly."
Improvements will include regrading and new rock for parking and pit areas, safety alterations to a pit wall that has been a factor in several injuries, and better bleacher seating.
The grandstands and wood bleachers at the track provide seating for up to 5,000 fans, who come out to watch the 90 to 100 racers during regular Friday night shows and special shows on other nights.
Marrs said he would like to see more women and youngsters in those crowds. To that end, he and Johnson are planning some new family-friendly touches, such as trophy queen competitions at area high schools and school bus rides around the track for youths on race nights. Business promotions, such as special nights at the historic speedway for local companies and their employees, also are planned.
Lakeside opened in 1955 and moved in 1988 to its present location at 5615 Wolcott Drive. It operated as an asphalt track until 2000, when new management converted the speedway into a semi-banked 3/8-mile dirt track.
A year later, the Kansas Speedway opened a few miles south, and Marrs said "that sure hasn't hurt us." On NASCAR weekends at Kansas Speedway, Marrs said, big-name NASCAR drivers such as Clint Bowyer, Kevin Harvick and Tony Stewart often come to race at Lakeside. In a modified heat race this season, Marrs finished second to Ken Schrader, a NASCAR Sprint Cup Series driver, after Schrader bumped Marrs' car to edge into the lead.
In addition to A and B modified series races, Lakeside Speedway hosts late-model Grand National races and factory-stock races.
Marrs raced on the area drag-racing circuit as a much younger man, then gave up racing to build his local tree service. But in more recent years, he began helping friends with their race cars. And six years ago, after one of his friends could no longer afford the equipment and parts for his Grand National car, Marrs bought it from him and climbed back into the cockpit.
"I said, 'I don't care what else is going on on Friday nights, I'm going racing,'" Marrs recalled. "And I haven't missed a Friday night at Lakeside since."
Marrs, who now races in both Grand National and modified series, has won his share of races and had his share of close calls. Four years ago, for instance, he and another driver got tangled up, and Marrs' car veered into a wall at the I-35 Speedway at about 60 mph.
"That rang my bell a little, and it destroyed the car," said Marrs, whose moustache and rugged countenance are reminiscent of late racing legend Dale Earnhardt's.
Sometimes, the tree service owner said, people who don't know him will comment on the dangers of his sport. But if anyone more familiar with Marrs is within earshot, he added, "they'll say, 'Well, look what he does for a living.'"