Candidate questionnaire: Eric Jenkins, mayoral primary
Jenkins will face the incumbent and one other challenger in the Feb. 28 primary election for Shawnee mayor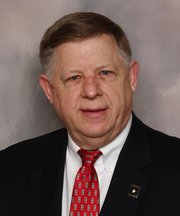 More on the mayoral race
New voting laws are in effect for Shawnee's mayoral primary. Read more here.
To read incumbent mayoral candidate Jeff Meyers' questionnaire, click here.
To read mayoral candidate Eric Jenkins' questionnaire, click here.
To read mayoral candidate John Segale's questionnaire, click here.
To read transcripts of online live chats with all three candidates, click here.
BIOGRAPHICAL INFORMATION
Name: Eric Allen Jenkins
Age: 63
Occupation: Retired Colonel, United States Army Reserves; Retired Manager, Federal Emergency Management Agency; President of PRMIT Consulting, LLC (emergency preparedness consulting).
Years Lived in Shawnee: 27 years.
Family: Wife Anne, 5 Children, 8 grandchildren
Professional Experience: I served one tour of duty in Iraq and led three additional collection and analysis teams into Iraq and Afghanistan. I have held leadership positions in the U.S. Army and the Federal Emergency Management Agency. I worked closely with the FBI in establishing terrorism consequence response plans and interagency coordination agreements.
In the Army, I commanded a Special Forces A-Team, a Military Police Battalion, and an Infantry Platoon. I held specialties in Military Intelligence, Civil Affairs, Infantry, and Military Police and was an instructor for the Command and General Staff College. I was a Senior Analyst for the Joint Center for Operational Analysis and the Center for Army Lessons Learned. While with FEMA, I supervised the National Flood Insurance Program, the National Dam Safety Program and the Earthquake Hazards Reduction Programs, and managed grant programs to Kansas, Nebraska, Iowa and Missouri. I was lead federal official for two presidential disaster declarations and was deputy or operations chief on many others. I was the Chair of the Interagency Steering Committee in Federal Region VII and Chaired the Radiological Assistance Committee (oversight of nuclear power plants and other operating facilities) in Region VII.
Political and civic experience: I have served 21 years as a Commissioner on the Shawnee Planning Commission. I also served for 4 years on the Northwest Advisory Board to the Board of Education. I served as a Commissioner on the Johnson County Charter Commission which is just now concluding its one year effort at reviewing the Charter for Johnson County.
Why running for office: I have fought on the front lines to defend and protect our freedoms that we hold dear as a nation, and now I am committed to bring those same principles home and fight to protect and preserve the quality of life we have come to expect in our own city. I've seen a real lack of fiscal discipline in City Hall as well as a lack of leadership and commitment on the part of the current Mayor and certain members of the City Council to respect the will of the people and exercise fiscal responsibility and transparency. I am running for office because I believe I have the strong leadership skills, professional experience, the fiscal responsibility, and the commitment to real transparency in city government that our city needs to help us grow and succeed through these challenging times. The fact that I am retired and will be dedicated to being a full-time Mayor is also critical during these challenging times.
Campaign website: jenkinsformayor.net
Questionnaire
What is the most important issue Shawnee's next mayor will face? How would you address and resolve it?

I believe the number one issue is the steadily decreasing level of opportunity in Shawnee. Small businesses are the backbone of Shawnee's employment opportunities and represent a significant portion of our tax base. If you look around the city, there are shuttered businesses everywhere. Some of our shopping centers have 50%+ vacancy rates. I know this because I have walked door-to-door in our business community. With those closures, the city loses jobs for our residents; sales taxes to contribute to the city's financial health; access to goods and services. We need strong and consistent leadership to bring entities together to seek out win-win solutions and grow our local economy. I do not believe the answer lies in expensive consultants coming in to tell us what we already know, or in additional taxes inequitably applied to retail businesses. We need to keep taxes and regulations at a minimum so we can attract more businesses and remain competitive. As Mayor, I will establish a local small and large business council in order to get to the root of the issues, find solutions, and grow jobs.
Where do you stand on city spending?
Shawnee spends too much money. With rising costs, residents of Shawnee have had to tighten their belts to make ends meet in their family budget; the city must do the same. If you have less revenue, you must trim spending, not take the easy way out and raise taxes on struggling taxpayers. We need to look at operating expenses, and projects initiated by our governing body that are of limited value to the community. We have some truly remarkable city staff working for us and after working closely with many of them over the past 21 years, I have the utmost respect for them. As Mayor, working together in conjunction with our great city employees I know we can have an effective and efficient city government. I believe that the governing body must be judicious in the use of taxpayer dollars, and show restraint and common sense in the spending that they authorize.
In 2011, the city increased landfill impact fees imposed on Deffenbaugh and used the new revenue to create an economic development fund. What are the biggest priorities for leveraging this money?
I would like to take a look at using this extra income to reducing city debt, putting aside a small emergency fund, and analyze how it can best be used in assisting revitalizing certain areas of our community. The best way to attract small businesses to our area is to have a plan that includes low taxes, low city debt, and a business climate that allows small businesses to thrive. I do not think the city should be in the business of picking winners and losers in the private business sector.
Does Shawnee need more affordable housing? If so, what priorities should guide its development? If not, why not?

Shawnee has a substantial amount of affordable housing available now. I would, however, be interested in looking at affordable housing alternatives for our elderly citizens who would like to remain near family and friends. This specific form of housing for a targeted segment of our population, in age restricted developments, may be appropriate in giving choices for those who have served Shawnee for so long and who would like to remain here as they age.
What should Shawnee do to continue attracting young families?
We need jobs for the young people. We have facilities, we have affordable housing, and we have a good community climate for raising a family. What our young people need is a secure job. I know this personally from the experiences of my own children. This is why it is so essential to re-grow our small business base and to look beyond small businesses to also bringing in some large businesses. We need to attract office parks; we need light manufacturing and tech jobs. I intend to aggressively seek and encourage these types of developments in Shawnee. As a full-time Mayor, I will work daily on pursuing a broader job market and shared tax base for our city.
Name recent city decision you agree with, and one you would have done differently?
I agree with bringing the City election cycle in line with that of Johnson County, so that starting in 2013 the City should see savings of approximately $80,000 to $120,000 per election. I strongly disagree with the increasing lack of transparency of city government as evidenced by the elimination of detailed City Council meeting minutes. Many citizens express that they prefer written minutes to keep tabs on their elected officials and know what taxes, fees and regulations are being discussed or acted on. I also disagree with the current Mayor's endorsement and appointment of a replacement city council member without letting the people of Ward 1 vote for their choice. Denying our citizens the right to choose their representatives is wrong, and it won't happen under my leadership.