Candidate questionnaire: Jeff Meyers, mayoral primary
Meyers, the incumbent, faces two challengers in the Feb. 28 primary election for Shawnee mayor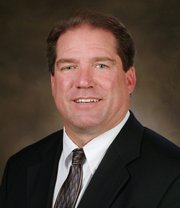 More on the mayoral race
New voting laws are in effect for Shawnee's mayoral primary. Read more here.
To read incumbent mayoral candidate Jeff Meyers' questionnaire, click here.
To read mayoral candidate Eric Jenkins' questionnaire, click here.
To read mayoral candidate John Segale's questionnaire, click here.
To read transcripts of online live chats with all three candidates, click here.
BIOGRAPHICAL INFORMATION
Name: Jeff Meyers
Age: 53
Occupation: Teacher/Coach Olathe East High School
Years lived in Shawnee: 31
Family: Wife- Susie Daughters- Caitlin, Brenna
Professional experience: Department Head, Head Football Coach, Assistant Track Coach
Political and civic experience: Former Chairman, Johnson & Wyandotte County Council of Mayors, Councilman, Shawnee City Council Ward 2 1993-1998, Ward 3 2000-20004, Council President, Chairman, Finance and Administration Committee, Chairman, Public Works and Safety Committee, Shawnee Board of Zoning Appeals 1987-1993, Shawnee Chamber of Commerce Board, Shawnee Downtown Partnership Board, Past Board Member Shawnee Homes Association, Past Grand Knight Shawnee Knights of Columbus, TLC Capital Campaign Committee, Kansas & Missouri Metropolitan Cultural District Commission.
Why running for office: I want to maintain the progress and continue to have positive impact on the residents and businesses of this community.
QUESTIONNAIRE
What is the most important issue Shawnee's next mayor will face? How would you address and resolve it?
The most important issue Shawnee's mayor will face will include several components. My number one priority is our police and fire services and keeping our residents safe. I want to expand our employment opportunities through economic development which broadens our tax base to keep taxes low. And, we need to execute a strong street maintenance plan that will keep our roads top rated. We continue to have decreasing crime, excellent safety service, and our economic development opportunities are exciting. Our infrastructure is well kept and we will continue the progress to keep our city extraordinary.
Where do you stand on city spending?
I am proud to say we do more with less in the City of Shawnee. We have fewer employees per 1000 residents than Leawood, Lenexa, Olathe, and Overland Park. We have less expenditures per square mile, and are very comparable with Overland Park on expenditures per capita and lower than all others. We have upgraded our bond rating twice since I have taken office. This is at a time when many other communities and even our country's bond rating were downgraded. Shawnee is fiscally sound and because of our bond rating it saves our city thousands of dollars. Our overall budget of a city with 62,000 residents, is $79,987,893 compared to our neighbor with a population with less than 50,000 residents, is $103,066,856. Our mill levy is 24.732 vs. our neighbor's mill levy of 29.635. This all translates into Shawnee residents paying less in city taxes. We also do an outstanding job of leveraging our money with County, State, and Federal dollars.
In 2011, the city increased landfill impact fees imposed on Deffenbaugh and used the new revenue to create an economic development fund. What are the biggest priorities for leveraging this money?
I believe we negotiated the single most significant agreement for Shawnee's future with Deffenbaugh Industries. ($100 million in impact fees, with the city receiving more than $3 million a year over the next 30 years) This money, I believe should be and will be used for economic development and street maintenance. With street lane miles in the city at 726 miles, our street maintenance can require more than $6 million a year alone. By leveraging some of this money with economic development, we can grow our tax base and increase revenues to help meet this expense.
Does Shawnee need more affordable housing? If so, what priorities should guide its development? If not, why not?
Yes. Shawnee needs more affordable housing. I believe being diverse in all types of housing is important to meeting the needs of our residents and adds value to our community. Senior affordable housing is an example of increased need. It is important for the city to be strategic and sensible when it comes to providing housing options.
What should Shawnee do to continue attracting young families?
To continue to attract young families we need to continue to have amenities that are attractive to them such as diverse housing options, strong school systems, recreational opportunities, safe neighborhoods, and commercial and retail developments that meet their needs.
Name recent city decision you agree with, and one you would have done differently?
A recent decision I agreed with was the negotiated agreement with Deffenbaugh Industries with the imposed impact fees on them. I wish we would not have had to suspend our mill and overlay program for the last two years but I felt we handled our economic situation the best we could at the time without raising taxes or eliminating services that our residents expected to maintain.