Candidate questionnaire: John Segale, mayoral primary
Segale will face the incumbent and one other challenger in the Feb. 28 primary election for Shawnee mayor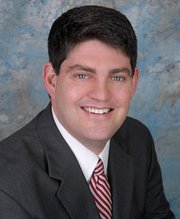 More on the mayoral race
New voting laws are in effect for Shawnee's mayoral primary. Read more here.
To read incumbent mayoral candidate Jeff Meyers' questionnaire, click here.
To read mayoral candidate Eric Jenkins' questionnaire, click here.
To read mayoral candidate John Segale's questionnaire, click here.
To read transcripts of online live chats with all three candidates, click here.
BIOGRAPHICAL INFORMATION
Name: John Segale
Age: 45
Occupation: Healthcare Computer System Operations
Years lived in Shawnee: 41
Family: Wife, two daughters
Professional experience: Cerner Corporation, 21 years
Political and civic experience: Shawnee City Council, 97-04, Johnson County Commissioner 05-09, Habitat for Humanity, Old Shawnee Days 98-03, Kansas City Rowing Club, Co-Founder.
Why running for office: To help Shawnee have a great future through lower taxes, sustainable spending and innovation.
Campaign website: www.johnsegale.org
QUESTIONNAIRE
What is the most important issue Shawnee 's next mayor will face? How would you address and resolve it?
The most important issue faced by Shawnee is how we position our community for prosperity as the economy recovers.
Our mayor must be able to put forth a truthfully positive image for our community.
The mayor must have the patience and experience to encourage us to define a prosperity that includes all members of the community from young to old.
In defining this prosperity and the actions needed to support it by the city, the mayor must be focused on getting the best from the people who serve us on the city council.
I have a history of working productively with the fellow elected representatives. This does not mean that we cannot disagree, because we will. It means that when disagreements occur we will be respectful and understand that we are all working for the success of our community.
Shawnee 's mayor must be able to work with neighboring cities, county, state and federal governments to ensure that efforts are as complementary as possible. By working together we can leverage spending to get the best possible outcome.
Where do you stand on city spending?
I have a history of telling voters the truth when it comes to the public finances while serving in elected office. While my honesty has sometimes harmed me at the polls, over time, it has proven accurate.
Broadly, city spending reflects positively on the high quality of the management and employees in the city.
Decisions to defer street and sidewalk maintenance, as the result of the severe recession beginning in 2007, were wise considering the economic uncertainty. However, given the improving economic conditions, low interest rates, conservative cash management and the $2.6 million increase in the impact fee associated with the landfill, the city has the chance to catch up on deferred maintenance before we fall further behind.
Providing tax relief and preventing the decay of our streets and sidewalks should be paramount for immediate expenditures. Rather than giving $1.5 million a year in cash to private developers to make up for dysfunctional lending we should use the landfill impact fee to eliminate the utility tax levied on residents starting in 2010 and put the remaining landfill money into our streets and sidewalks to catch up on 4-years of deferred maintenance.
In 2011, the city increased landfill impact fees imposed on Deffenbaugh and used the new revenue to create an economic development fund. What are the biggest priorities for leveraging this money?
Invest in the Shawnee community by giving Shawnee residents a break on their city taxes and catching up on deferred maintenance.
Eliminate the electric and gas tax imposed on residents in 2010 as an emergency measure by the council and put that money back in the pockets of hardworking families.

Direct the remaining funds to catch up on the backlog of street and sidewalk maintenance created by the council's spending decisions over the past 4-years during city budget and economic crisis.
Eliminate the $1.5 million economic development fund that pays cash to developers. Promoting a quality community for families and employees and supporting a great transportation network is the key to successful economic development. The city must work with the development community to make sure that businesses can ensure long run success by having access to high quality workers and a market for their goods and services.
Does Shawnee need more affordable housing? If so, what priorities should guide its development? If not, why not?
Yes, we all want affordable housing. Housing affordability means that people who work in the city can afford to live in the city if they choose.
County appraiser and housing study data show Shawnee in the middle of the pack within the county in terms of housing cost diversity and affordability.
Housing affordability is an indicator of a healthy economy. It is a function of income and the price of housing. The city should encourage employment that pays wages enabling workers to live within the city. At present costs household income should be about $75,000.
A recent chamber of commerce strategic plan sought adding jobs paying on average $30,000 a year, which hardly supports living within the city. We should shoot higher with our employment goals.
A homebuilders study in 2007 indicated that as a region we had lower home costs, but transportation costs which required much higher than average personal spending. Higher gas prices are making this situation worse.
City planning should encourage high quality and more dense development to lower the costs of housing. Simultaneously this supports the development of walking and public transportation, helping to reduce personal transportation costs.
What should Shawnee do to continue attracting young families?
Maintain and enhance the quality of the community, specifically focusing on the following:
Support excellent and well funded public schools through any means possible.
Ensure the community is safe and free of crime.
Invest in parks and recreational activities.
Support the Johnson County Library.
Ensure that taxes are fair and low.
Invest in streets and sidewalks to maintain home values and quality neighborhoods.
Enforce city codes to protect homeowner's investment.
Name recent city decision you agree with, and one you would have done differently?
Having served on the city council I know about 90% of decisions are non-controversial and achieved with near consensus.
One big decision that actually unfolded over the past 8-years which I agree with was the completion of the 55th/Johnson Drive interchange. City, state and federal funds were combined to support this important project. It makes traffic flow through the community more efficient and should ultimately result in development activities along the K-7 corridor resulting in lower property taxes for Shawnee and the DeSoto school district. I agree with investing in public infrastructure such as K-7 which supports opportunity for businesses and residents in Shawnee.
I disagree with several recent decisions of the council which some view as economic development, but which I would characterize as unnecessary corporate welfare.
The most recent of these is the tax abatement granted to the McClain Foods distribution center at K-7 and 83rd. In this case, a tax abatement was granted after 11-years of successful operation with no abatement just because McClain wanted to purchase the rented facility. All of this occurred after a 1998 abatement was never claimed. Giving tax breaks to a successful business which promises little new activity makes no sense.
More like this story