Three vie to be city's next mayor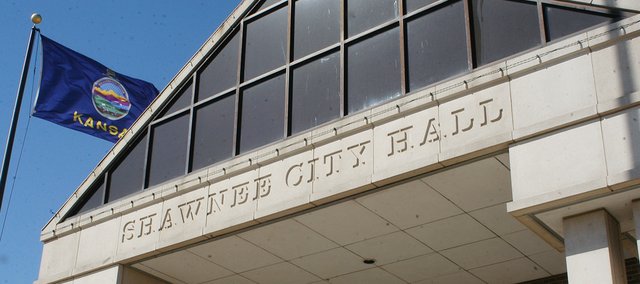 More on the mayoral race
New voting laws are in effect for Shawnee's mayoral primary. Read more here.
To read incumbent mayoral candidate Jeff Meyers' questionnaire, click here.
To read mayoral candidate Eric Jenkins' questionnaire, click here.
To read mayoral candidate John Segale's questionnaire, click here.
To read transcripts of online live chats with all three candidates, click here.
Shawnee mayor Jeff Meyers is up for reelection this year. He will face two challengers, Eric Jenkins and John Segale, in the Feb. 28 spring primary election. The two candidates with the most votes will advance to the April 3 general election. Below, The Dispatch features each candidate's key issues.
Eric Jenkins: City must keep taxes and regulations down to help small businesses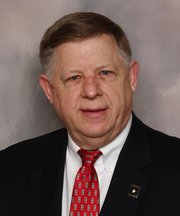 Eric Jenkins wants to tackle what he calls a "decreasing level of opportunity" in Shawnee by keeping taxes and regulations at a minimum to attract more small businesses.
"Small businesses are the backbone of Shawnee's employment opportunities and represent a significant portion of our tax base," he said. "If you look around the city, there are shuttered businesses everywhere. … We need strong and consistent leadership to bring entities together to seek out win-win solutions and grow our local economy."
Jenkins, one of three candidates running for mayor of Shawnee, named small business growth as his top priority in a written questionnaire from The Dispatch. Jenkins, 63, is a retired colonel in the U.S. Army Reserves, retired manager with the Federal Emergency Management Agency and an emergency preparedness consultant.
Jenkins said the governing body must show more restraint in the spending it authorizes.
"Shawnee spends too much money," he said. "With rising costs, residents of Shawnee have had to tighten their belts to make ends meet in their family budget; the city must do the same."
When asked how he would use revenue the city expects to receive from newly increased landfill impact fees, Jenkins said Shawnee should use it to reduce city debt and analyze how it could help revitalize certain areas.
"The best way to attract small businesses to our area is to have a plan that includes low taxes, low city debt and a business climate that allows small businesses to thrive," he said.
Jenkins said he agreed with Shawnee's decision to align elections with Johnson County, a cost-saving measure. He said he did not agree with the elimination of written meeting transcriptions.
Chat with Jenkins: The Dispatch has scheduled a live chat with Jenkins for 9-9:30 a.m. Thursday. Join the conversation at shawneedispatch.com/chats.
Jeff Meyers: Spending is stable, economic development and streets need improvement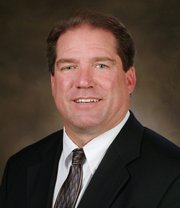 Shawnee Mayor Jeff Meyers, vying for his third term in office, says one of his points of pride has been doing more with less in the city.
When it comes to city spending, Meyers said since he has been in office, Shawnee has upgraded its bond rating twice while other communities' ratings were downgraded.
"This all translates into Shawnee residents paying less in city taxes," he said. "We also do an outstanding job of leveraging our money with county, state and federal dollars."
His stance on city spending was one of several questions Meyers addressed in a written questionnaire from The Dispatch. The mayor, 53, a high school teacher and coach, faces two challengers in the Feb. 28 primary.
Meyers listed his top priorities as police and fire services to keep residents safe, expanding Shawnee's employment opportunities through economic development and executing a strong street maintenance plan to keep roads top-rated.
On the subject of recent agreements made with the city, Meyers cited the city's new agreement with Deffenbaugh Industries that would bring in more than $3 million annually in increased landfill impact fees for the next 30 years.
"This money, I believe, should be and will be used for economic development and street maintenance," Meyers said.
Street maintenance relates to a city decision Meyers said he would have done differently.
"I wish we would not have had to suspend our mill and overlay program for the last two years, but I felt we handled our economic situation the best we could at the time without raising taxes or eliminating services that our residents expected to maintain."
Chat with the mayor: The Dispatch has scheduled a live chat with Meyers for 11:30 a.m.-noon Feb. 23. Join the conversation at shawneedispatch.com/chats.
John Segale: Rebuild streets, omit residential utility tax, stop 'corporate welfare'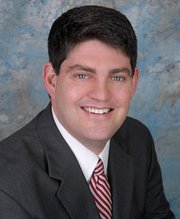 John Segale said he understood Shawnee's decisions to defer street and sidewalk maintenance as a result of the severe recession and uncertainty beginning in 2007.
But now, he said, preventing decay of city streets and sidewalks should be paramount for immediate expenditures.
"Given the improving economic conditions, low interest rates, conservative cash management and the $2.6 million increase in the impact fee associated with the landfill, the city has the chance to catch up on deferred maintenance before we fall further behind," Segale said.
Segale addressed city spending and other issues in a written questionnaire from The Dispatch. Segale, 45, who works in healthcare computer system operations for Cerner, faces the incumbent and another challenger in the Feb. 28 primary for Shawnee mayor.
Segale has opposed the city's decision to use money from the recently increased landfill impact fee for economic development. Instead, he would use money to catch up on deferred street maintenance and give residents a break on city taxes.
"Eliminate the electric and gas tax imposed on residents in 2010 as an emergency measure by the (City) Council and put that money back in the pockets of hardworking families," he said. "…Promoting a quality community for families and employees and supporting a great transportation network is the key to successful economic development."
Segale called some of the city's recent decisions on economic development expenditures "corporate welfare," citing a tax abatement for an existing food service warehouse as one example.
He said he supported completion of the Kansas Highway 7 and Johnson Drive interchange, because it will support opportunities for businesses and residents and because it was achieved with city, state and federal funds.
Chat with Segale: The Dispatch has scheduled a live chat with Segale for 3:30-4 p.m. Friday. Join the conversation at shawneedispatch.com/chats.