Former
SM

Northwest passer setting records, gaining national attention in

NCAA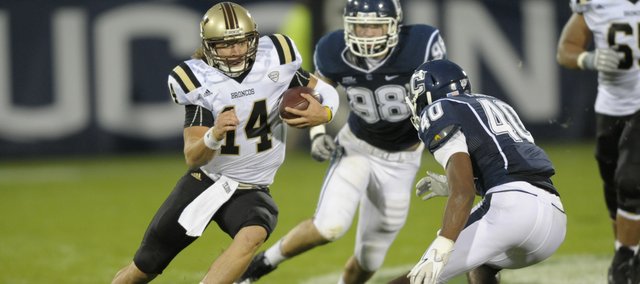 Part of being your school's most prolific quarterback — and gaining national attention entering your senior season — sometimes has you sitting in a car for five and a half hours, a crisp suit hanging nearby in a garment bag.
It's been four years since Alex Carder left Shawnee Mission Northwest to play for Western Michigan, the only Division I football program that he said gave him a shot. And now it's early Feb. 2012, he's taking naps and listening to ESPN Radio, trying to pass the time on the long car ride from Kalamazoo, Mich., to Columbus, Ohio, where he'll receive a trophy at the 57th Annual Touchdown Club of Columbus Awards Banquet. He was recognized as one of two players to watch in the Mid-America Conference.
Montee Ball, Wisconsin's running back and a Heisman candidate last season, looked on as Carder took the stage. So did the NCAA's all-time passing leader, Houston's Case Keenum. And so did Bill Snyder, Kansas State's resident miracle worker.
"I see a lot of big-name players here," Carder began in his acceptance speech. "And to consider myself one of them is definitely a huge honor for me."
Last year, Carder led the Broncos to the Little Caesars Pizza Bowl. The bowl itself, one of dozens in a bloated bowl season, might have been a punch line to some — something to point one's finger at and cry big-time college sports gluttony. But it meant something to Carder and the Broncos as it was just the program's fifth trip to the postseason. If anyone thought they were playing for nothing, they'd be damned if they played like it.
Carder passed for 439 yards — finding fellow MAC Player to Watch Jordan White for a school-record 239 yards — and brought the Broncos to the brink of victory with a fourth quarter touchdown pass — his third of the day. But Carder's fifth turnover, a fumble in the final minutes, ended all hopes for a comeback, and Purdue — who recovered two onside kicks in the first half — secured the victory.
At SM Northwest, Carder earned All-Sunflower League honors for three straight years and was invited to the Nike Football Training Camp and U.S. Army National Combine as a sophomore. He capped his career with the Cougars by leading the team to league and regional titles and a 9-2 overall record.
Carder still remembers his first training camp with the Broncos. In Shawnee, he had played with the same group of guys since he was 7 and now he was away from home for the first time. With that new group, and in the dead of August, Carder would be up by 7:30 a.m. and not return until about 10:30 p.m. each night.
"Wow, this is hardcore," he thought. "This isn't high school anymore."
But the grueling schedule and adjusting to an entirely new team for the first time in his life gave way to the realization that this was it: Division I football.
"Playing with guys that set themselves apart was as important to them as it was to me," Carder said. "I made friends quickly."
During his junior campaign, Carder set the single-season record at Western Michigan for passing yards with 3,873, and tied the record for the most 300-yard passing games in a season with seven.
Perhaps the highlight of Carder's 2011 was his career-high 479-yard, five-touchdown performance in a victory on the road against Connecticut — a team five games removed from a Fiesta Bowl appearance.
It's the opportunities to knock off the BCS big boys that Carder and the Broncos relish, and they'll have several chances to do it again this fall. They'll get Connecticut at home this year, and Minnesota early in the season. The Broncos will also get another crack at Illinois, which was ranked No. 24 when Western Michigan nearly bested the Illini in Champaign.
The goal is 9-10 wins this year. No exceptions. Carder wants to get his team back to a bowl and lead it to its first postseason victory.
"At the end of my senior year I want to look back and see that we've accomplished something," he said.