Food left on stove caused fatal apartment fire in Shawnee
Unit's smoke alarm had no battery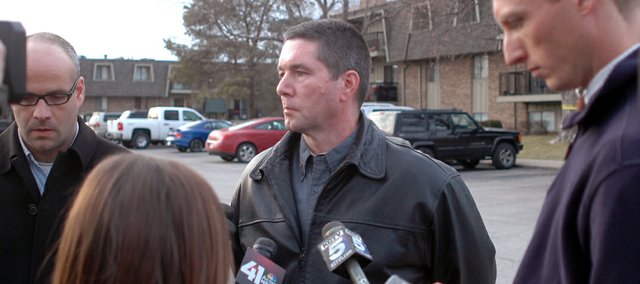 Photo Gallery
Apartment fire kills two in Shawnee
An early-morning apartment fire on Friday killed two people inside a building at the Carlyle Apartment Homes complex. Shawnee firefighters, Johnson County Crime Lab technicians and Shawnee police spent much of Friday investigating. The fire was contained to one unit, and little damage was visible from outside the building.
Food left in a pan on the stove caused the fire that killed a young man and woman inside their Shawnee apartment Friday morning.
JaMaur Smith, 23, and Jay'd Griffin, 21, died of smoke inhalation, Shawnee Fire Chief John Mattox said at a press conference Friday evening. Mattox said there was a smoke detector in the apartment but the battery had been removed.
One victim's body was found on the bedroom floor, the other on the living room floor, Mattox said, indicating they probably tried to escape but were overcome by toxic smoke.
"The first thing to go to sleep on you is your olfactory system, you quit smelling things," Mattox said. "And then one of the last things to wake up on you is your olfactory system, as well. That's why it's so important to have early detection."
Firefighters arrived shortly after 5:30 a.m. at the Carlyle Apartment Homes, 11601 W. 75th Terrace, and encountered light smoke in the hallway but no visible flames, Mattox said. He said crews began checking apartments and encountered thick smoke in one of the first units they forced their way into.
Firefighters discovered the victims while searching the first-floor apartment, brought them outside and performed CPR. Both victims were pronounced dead at the scene.
No other residents were hurt, and no other apartment units were damaged, Mattox said.
Neighbors were back in the building Friday afternoon.
Johnson County Crime Lab technicians and Shawnee Police Officers assisted with Friday's investigation.
Mattox said the automatic alarm in the circa-1970s apartment building alerted the fire department Friday morning. It wasn't immediately clear whether a hallway smoke detector or a manual switch triggered that alarm.
Mattox said investigators checked apartment complex records and the alarm system worked fine during its annual test last May. He said the complex checked and replaced smoke alarm batteries in individual units in April and October.
The fire accounted for Shawnee's first citizen fatalities from a fire in more than 10 years, Mattox said.
"We can't emphasize enough to maintain your smoke detector," he said. "Have a working smoke detector in your house, in your apartment."
More like this story