Apartment fires take toll
Three blazes in less than two weeks challenge firefighters, Red Cross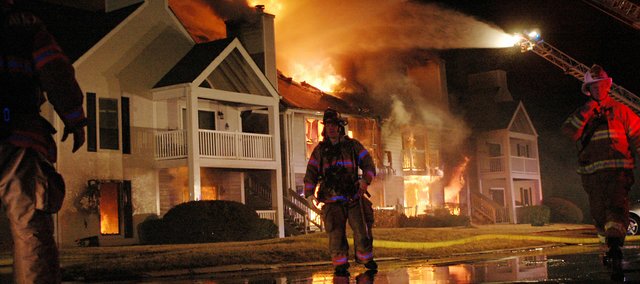 Photo Gallery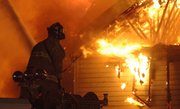 Massive fire destroys Shawnee apartment building
High winds quickly fueled a Shawnee apartment fire from a small flame to a blaze that engulfed an entire building and threatened others Thursday evening. The fire was reported about 7:15 p.m. at the Hampton Woods apartment complex, near 67th Street and Renner Road. Firefighters believe all residents got out safely.
Photo Gallery
Apartment fire kills two in Shawnee
An early-morning apartment fire on Friday killed two people inside a building at the Carlyle Apartment Homes complex. Shawnee firefighters, Johnson County Crime Lab technicians and Shawnee police spent much of Friday investigating. The fire was contained to one unit, and little damage was visible from outside the building.
Three major apartment fires in less than two weeks have killed two Shawnee residents and displaced dozens more. Monetary damages could soar to $2.5 million.
The fires — all unrelated and believed to be accidental — have spurred the Shawnee Fire Department to amp up routine education efforts. In addition to a previously scheduled management-tenant meeting at Pinegate West apartments, the department has contacted all of the city's large apartment complexes to schedule safety meetings.
"Hopefully we won't have a repeat of any of this in the near future," Shawnee Fire Chief John Mattox said.
At press time Tuesday, the fire department had yet to announce a cause for Shawnee's latest and largest apartment fire, a three-alarm wind-fueled inferno that engulfed one building and forced evacuation of four others Thursday night at Hampton Woods apartment complex, near 67th Street and Renner Road.
Mattox said investigators had been working at the scene and were expected to discuss findings Tuesday morning.
The fire was reported about 7:15 p.m., and firefighters encountered heavy smoke and flames near the building's ground level.
"It didn't take but a couple minutes for that first floor to collapse into the lower level," Mattox said.
Two fire crews that were inside retreated, and firefighters began battling the fire defensively from outside the building, Mattox said.
With each heavy gust of wind, flames and smoke burgeoned larger from the burning building. Smoke, sparks and embers floated downwind.
"The wind dictated everything," he said.
At 9 p.m., firefighters continued to pump water on at least one neighboring building to prevent it from catching fire. They had large flames mostly knocked down by 10 p.m., and what was left of the burning building was skeletal.
No residents were hurt, but a number of pets presumably perished.
Last Thursday's fire was the third in a 10-day period.
• The evening of Feb. 14, firefighters rescued a man trapped on a second-floor balcony of Fox Run apartment complex, 7608 Goddard St.
Firefighters, alerted by the building's automatic alarm system, found heavy flames on the back of the building. Mattox said it took two to three hours to get the two-alarm fire under control. The fire destroyed everything on its side of the firewall between 7608 and 7606 Goddard.
Investigators think that fire started in a ground floor apartment but were unable to determine its cause, Mattox said. Foul play is not suspected.
• Food left in a pan on the stove caused an early-morning fire that killed two residents Feb. 17 at Carlyle Apartment Homes, 11601 W. 75th Terrace. Firefighters arrived shortly after 5:30 a.m., again notified by an automatic building alarm, to find a ground-floor apartment filled with smoke.
The battery had been removed from the unit's smoke alarm, rendering it inoperable. The victims, JaMaur Smith, 23, and Jay'd Griffin, 21, were overcome by smoke. Theirs was the only unit damaged.
Increased safety measures at apartments
Shawnee required apartment complexes to install automatic fire alarms in all buildings in the 1980s, Mattox said. Apartments also must conduct annual tests of those alarms. Some complexes, including Carlyle, voluntarily do so twice a year, the chief said.
In the past 10 years, he said, the city has required apartment buildings to install automatic sprinkler systems when they're constructed or reconstructed after being damaged.
Sprinklers would have kept the Fox Run apartment fire from spreading and might have prevented deaths in the Carlyle fire, Mattox said. He said at Hampton Woods, the wind was so fierce sprinklers may not have made a difference.
Mattox said official damage estimates were not complete for any of the fires.
However, he estimated the Fox Run fire would exceed $1 million in damages. He said the Hampton Woods fire could total $1.5 million to $2 million in damages.
Red Cross renders aid
In addition to residents displaced by the Fox Run fire, the American Red Cross helped 40 people from 29 families affected by the Hampton Woods fire, said Duane Hallock, spokesman for the Greater Kansas City chapter of the Red Cross.
At Hampton Woods, 20 units were destroyed and 30 others were unfit for residents to return to right away, either because of smoke damage or because doors were broken down during the emergency evacuation.

Hallock, a Shawnee resident, was on hand throughout the Hampton Woods fire.
"Our main concern is that everyone has a safe place to sleep for the night and that they have food and they have clothing," he said. The Red Cross also helps with food, clothing or referrals to other social service agencies.
Hallock said the best way to help fire victims is to donate money to the Red Cross, either online at redcross.org or by phone at 800-RED-CROSS (733-2767).
"We give money and provide assistance and support immediately, and that is because of people who give for future disasters," he said.
Residents on alert
Six-year Hampton Woods resident Vickie Poe had been outside snapping pictures Thursday night when firefighters told her she needed to evacuate because embers were threatening her building, too.
She ran inside, pulled her 13-year-old cat, Jackson, from under the bed and stuffed him in his carrier, with firefighters hollering, "We've gotta go! Gotta go!" the whole time, she said.
Poe's bedroom sustained water damage, but she's grateful because she knows that's what saved her building.
Since Thursday, Poe has rented two bank safety deposit boxes.
"Not that I have anything that's any value," Poe said. "But, you know, when you're 69 years old you've got photo albums, you've got DVDs of the family that you can never replace."
She's always had renter's insurance.
"Wouldn't live without it," Poe said. "After seeing what I saw the other night, my God, how could you not have it?"