22-2 run powers
MVHS

boys past Tonganoxie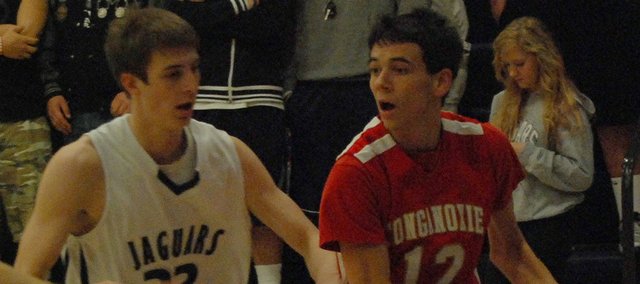 Tonganoxie hit big shot after big shot during the first half Friday night at Mill Valley, and for a while it looked like the Chieftain boys basketball team would pull off the upset.
Photo Gallery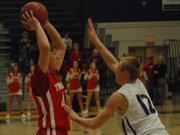 Mill Valley boys 77, Tonganoxie 65
Mill Valley never panicked, however, and the Jaguars' patience soon paid off as they pulled away for a 77-65 victory.
Mill Valley used a 22-2 run that overlapped the third and fourth quarters to turn a five-point deficit into a 15-point lead.
"Tonganoxie came out with a lot of emotion," MVHS coach Justin Bogart said. "I know they had a disappointing game Tuesday (against Bonner Springs) and we knew they were going to come out hard tonight — and they did. They hit a lot of big shots."
The Chieftains used 3-pointers from Dylan Jacobs and John Lean during the first quarter to overcome some early hot shooting by Mill Valley's Nathan Stacy and Nick Friesner. By the end of the quarter the Jaguars led just 16-14 despite seeming to be in control.
A 16-footer by Staton Rebeck and two free throws from Stacy helped MVHS take a four-point lead early in the second quarter, but back-to-back 3-pointers from Jacobs ignited the Chieftains once again. Lean, Brennan Williams and Tyler Ford all added treys later in the quarter and pushed THS to a 36-33 halftime lead.
"The message at halftime was, 'We don't have to answer their big shots with a big shot of our own,' we just need to stick with what we do and trust what we run," Bogart said. "Our shot selection wasn't terrible in the first half, but it was much better in the second half. We found guys on the cuts and we had very unselfish play by all of our guys."
The teams traded baskets for the first five minutes of the third quarter as THS maintained a 46-41 lead, but that's when Mill Valley turned the tables with its decisive surge.
The run began when Kyle Kain hauled in an offensive rebound, scored on a put-back and drew a foul. He knocked down the ensuing free throw to bring the Jaguars within 46-44. Moments later, Stacy fed Drew Boatwright for a game-tying layup.
Tonganoxie reclaimed the lead on a put-back by Josh Ghale, but it was short-lived as Mill Valley rattled off the next 17 points.Brett Hamilton scored six points during the run, Stacy had four and Jake Theis had four as Mill Valley built a 63-48 lead with 5:40 to go in the game.
Tonganoxie briefly pulled back within eight at 65-57 with 2:59 to go on a three-point play by Dane Erickson, but Mill Valley quickly stretched the lead back to double figures and never looked back.
Lean led Tonganoxie with 23 points and Erickson added 15.
Stacy scored a game-high 26 points for Mill Valley, Friesner scored 16 and Hamilton added 13 as the Jaguars improved to 4-2.
Score by quarters
Tonganoxie 14 22 12 17 — 65
Mill Valley 16 17 19 25 — 77
TONGANOXIE — John Lean 9-17 1-5 23; Dane Erickson 4-8 7-7 15; Dylan Jacobs 4-9 0-0 11; Colby Yates 2-5 1-2 6; Josh Ghale 2-4 0-2 4; Brennan Williams 1-2 0-0 3; Tyler Ford 1-3 0-2 3; Eric McPherson 0-1 0-0 0.
MILL VALLEY — Nathan Stacy 9-18 8-9 26; Nick Friesner 6-14 2-3 16; Brett Hamilton 4-7 5-6 13; Kyle Kain 2-5 3-3 8; Staton Rebeck 3-6 0-0 6; Jake Theis 3-4 0-0 6; Drew Boatwright 1-5 0-0 2; Austin Moylan 0-2 0-0 0.