Tripp, Mill Valley girls pull away from Tonganoxie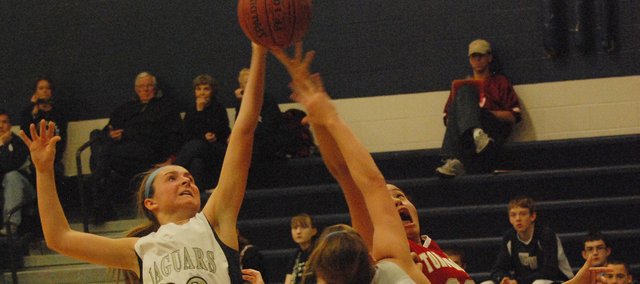 For two quarters Friday night the Mill Valley girls basketball team was unable to shake a scrappy Tonganoxie squad that struggled to score but did enough defensively to stay in the game.
Photo Gallery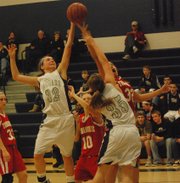 Mill Valley girls 45, Tonganoxie 28
A decisive five-minute stretch in the third quarter allowed Mill Valley to seize control, however, and the Jaguars pulled away for a 45-28 victory at MVHS.
Leading just 15-8 at halftime, Mill Valley exploded out of the gates to start the third quarter. The Jaguars rattled off a 17-4 run during the first five minutes of the quarter and forced five turnovers during that span. The THS miscues led to eight points the other way.
At one point during the run, Mill Valley's Tanner Tripp scored three straight buckets, made two steals and dished two assists.
By the end of the surge, Mill Valley led 32-12 and was in full control.
"You've got to get some cheap buckets — steals, offensive rebounds, put-backs — and then you've got to be able to execute to be good," Mill Valley coach John McFall said. "And Tonganoxie won't let you execute anything because they keep running one or two or three people at you."
Tripp later buried another 3-pointer with 1:02 to go in the quarter and gave MVHS its largest lead of the game at 22.
Tonganoxie pulled to within 15 midway through the fourth quarter when Hannah Kemp scored back-to-back baskets, but the Chieftains never mounted a serious threat.
The fact that Tonganoxie was still in striking distance at halftime was a bit surprising considering the Chieftains had 16 turnovers and just two made field goals in the first half. Their aggressive man-to-man defense and full-court press caused problems for Mill Valley offensively, however. The Jaguars made just five of 21 shots in the first half and turned the ball over seven times. Still, they built a 14-4 lead midway through the second quarter before two free throws by Kemp and a layup by Emma Stilgenbauer cut the deficit to single digits going into halftime.
Stilgenbauer finished with a team-high nine points for Tonganoxie and Jenny Whitledge added six.
Stephanie Lichtenauer led Mill Valley with a game-high 17 points and Tripp added 12 as the Jaguars improved to 3-3.
Score by quarters
Tonganoxie 4 4 9 11 — 28
Mill Valley 8 7 22 8 — 45
TONGANOXIE — Hannah Kemp 3-7 3-4 9; Jenny Whitledge 2-8 2-2 6; Emma Stilgenbauer 2-4 0-1 4; Katelyn Waldeier 1-3 2-3 4; Tavia Brown 1-6 1-2 3; Emily Soetaert 1-3 0-0 2; Amanda Holroyd 0-3 0-0 0; Madee Walker 0-5 0-0 0; Haley Smith 0-1 0-0 0.
MILL VALLEY — Stephanie Lichtenauer 7-12 0-1 17; Tanner Tripp 5-12 0-0 12; Mackenzie Conklin 1-3 3-6 5; Kati Strickland 1-1 2-2 4; Mary Altman 1-2 1-2 3; Brooklyn Sloop 1-2 0-0 2; Carly Eaton 1-2 0-1 2; MacKenzie Koch 0-2 0-2; Molly Miller 0-1 0-0 0.