SMNW

wrestling defeated at Lawrence Free State dual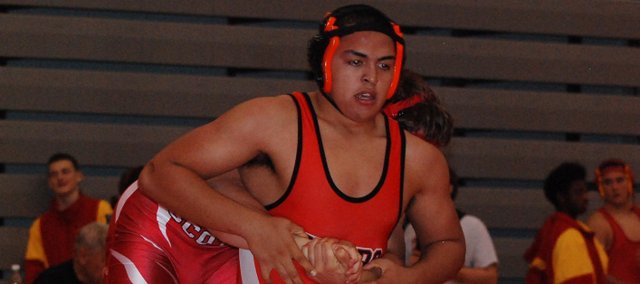 Complete results:
• 106 — David Stubbs, FSHS, def. Austin Simms, SMNW, pinfall
• 113 — Sebastian Joseph, FSHS, def. Donte Colum, SMNW, pinfall
• 120 — Brady Utter, SMNW, def. open
• 126 — Maurice Jacobs, FSHS, def. Esdras Cisneros, SMNW, 13-3
• 132 — Andrew McLees, FSHS, def. Nate Bailey, SMNW, pinfall
• 138 — Marquez White, FSHS, def. Alex Quinn, SMNW, 6-4
• 145 — Colton Steele, FSHS, def. Jorge Amunatigui, SMNW, pinfall
• 152 — Ben Soukup, FSHS, def. open
• 160 — Stan Skwarlo, FSHS, def. open
• 170 — LaPhonso McKinnis, SMNW, def. Seth Holiday, FSHS, pinfall
• 182 — Open
• 195 — Spencer Wilson, FSHS, def. Mario Galvan, SMNW, 9-6
• 220 — Tyler Sampson, FSHS, def. open
• 285 — Reid Buckingham, FSHS, def. Roan McAnerney, SMNW, pinfall
Lawrence Free State came out on top in all but one match against Shawnee Mission Northwest wrestlers on Wednesday.
SM Northwest's LaPhonso McKinnis pinned Seth Holiday in their 170-pound bout for the Cougars' lone victory against an opponent — 120-pound Brady Utter also earned a victory at 120 pounds, but it was because Free State did not field a 120-pound competitor for Utter. Three Free State victories came were also under these circumstances.
Free State finished with a 59-12 advantage.
SM Northwest will next compete at 4 p.m. Friday and 9 a.m. Saturday in the Blue Valley Northwest Invitational. The state's top two teams in 6-A will also compete in the event, with No. 1 Lawrence and No. 2 Manhattan on hand.