Resident retires after 40 years with
HUD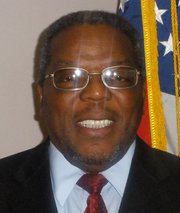 Shawnee resident and attorney Eugene Lipscomb recently retired from the U.S. Department of Housing and Urban Development, where he worked more than 40 years.
Lipscomb received his bachelor's and juris doctorate degrees from Howard University and a master's degree from the University of Missouri.
Lipscomb held a number of positions throughout his career at HUD. As associate field counsel for litigation, he handled both defensive and affirmative litigation and played a central role in assisting in HUD's defense of the Kansas City, Mo., school desegregation case, Jenkins v. State of Missouri, et al. He also handled issues affecting the Housing Authority of Kansas City, Mo. Lipscomb obtained more than $2 million in judgments and settlements and earned multiple government awards and honors, including the Office of General Counsel's Leigh Curry Award in 1999 and the Secretary of HUD's Distinguished Service Award in 2011.
More like this story