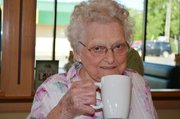 Doris Hartegan was treated to a 96th birthday breakfast June 13 at the Shawnee First Watch restaurant by fellow members of her local TOPS club.
TOPS is an acronym for Taking Off Pounds Sensibly, and since joining the group in 1989, Hartegan has taken off 35 pounds and kept them off for more than a decade.
The club meets each Wednesday morning in a member's home for discussion of nutritional topics and a weigh-in. But it's also a venue for building friendships and weighing in on other topics. And on June 13, Hartegan was the talk of the club.
"She keeps us young," one member said.
Hartegan has been a Shawnee resident since she and her late husband, George Hartegan, lost their home in the Argentine community in the 1951 flood. And during the late 1950s, she worked at Garrett's Grocery in Shawnee.
Breast cancer forced her to quit the job in 1959, she said. But in the wake of surgery, she has remained cancer-free while living up to a promise. At the time of her cancer battle, she vowed, "If I live through this, I'm going to enjoy every day of my life."
Hartegan, who especially enjoys her morning coffee, also is a member of the Keenagers organization sponsored by the St. Joseph Catholic Church, which she has attended since 1951.
She also enjoys playing cards and Bingo, telling jokes and visiting with family.
The mother of two sons, Hartegan has seven grandchildren, eight great-grandchildren and one great-great-grandchild.