Train mania spurs backyard railroad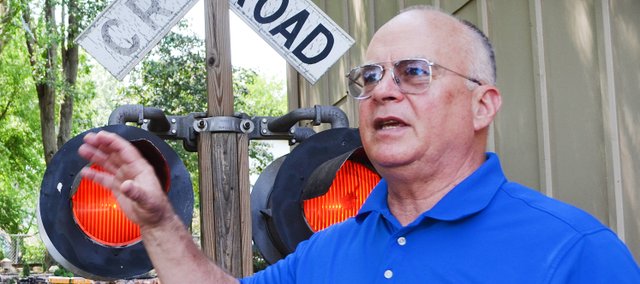 Shawnee Ward 1 City Councilman Jim Neighbor has built a railroad, 67 trackside buildings and a couple of waterfalls — all in his backyard.
The hobby started modestly enough, when Neighbor's wife, Cindy, bought him a G scale model train for Christmas 15 years ago, he said.
But after Neighbor's living room track layout expanded into the dining room, his wife urged him to move it downstairs. And when it took over the entire recreation room, she said, "Out."
That was in 2000, Neighbor said, and since then, he has fueled his railroad fascination the way a steam-engine fireman shovels coal into the firebox — continuously.
As a result, 610 feet of track now snakes through half of the Neighbors' backyard. And steam-belching locomotives keep 16-inch-long cars coursing around the miniature railway whenever grandkids or other company are present to witness the spectacle.
"I flew airplanes for 32 years so I could retire and play with trains and grandchildren," Neighbor said as he fired up his railway for a demonstration last week.
According to Neighbor, who retired as a United Airlines 747 pilot in 2003, his G scale models are miniature versions of the 30-foot-long narrow-gauge cars that hauled supplies and precious ores through mountainous regions of Colorado and New Mexico in the late 1800s.
That's the railroading time and venue Neighbor is most intrigued by, he said. And as a show of his respect for that narrow-gauge era, he has equipped his trains with details ranging from livestock cars that produce authentic mooing and bleating sounds to a butterfly plow that can clear six-inch snowfalls from the track.
But Neighbor's railroad mania isn't confined to miniature trains and tracks. It extends from G scale to grand scale.
The councilman, for instance, has erected an actual railroad crossing signal by the side of his home, complete with working red lights that notify passersby when the backyard trains are running.
In addition, Neighbor has spent a couple of weeks during each of the past six summers as a docent for the Cumbres & Toltec Scenic Railroad in Chama, N.M.
Known as the best-preserved steam era railroad in North America, its 64 miles of track were laid in 1880 as a portion of the former Denver & Rio Grande narrow-gauge network that extended from Denver to Santa Fe, N.M., and Silverton, Colo.
Having read about narrow-gauge railroading for much of his life, Neighbor enjoys articulating its history to those who visit the scenic railroad, which has been designated as a National Historic Site.
And back home, he enjoys applying his 21st century digital wizardry to recreating a slice of the 1880s in his backyard.
Neighbor often wishes he'd lived back then, he said, and he can almost put himself there when he gazes out at his illuminated railroad village at night.
"With the lights, I can look out at night and see my little town," he said, prompting a question about its name.
He's never given it one, he said, "but Cindy has; she calls it my expensive toy."
More like this story