Bobcat spotted in Woodland Place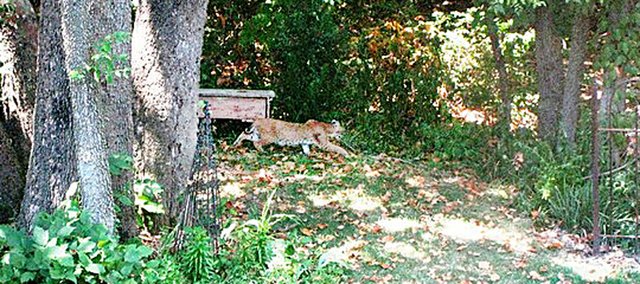 A bobcat spotted in the Woodland Place subdivision near 55th Street and Pflumm Road last Thursday afternoon has prompted a warning from the neighborhood's homes association.
The bobcat was photographed in a resident's yard near the Woodland Place swimming pool, said Floyd Overholt, president of the homes association. He said another bobcat sighting was reported in Woodland Place earlier in the summer.
Overholt said he sent an email alerting residents to the animals, which he believes may be coming closer to homes in search of water because a creek in the wooded neighborhood has dried up during the ongoing drought.
"The cat isn't going to bother anybody unless he gets cornered," Overholt said.
But residents may want to take precautions with their children and pets, he said.
"With a small dog or a big dog for that matter, the cat's going to be the winner," Overholt said.