DA

's office investigating alleged open meetings violation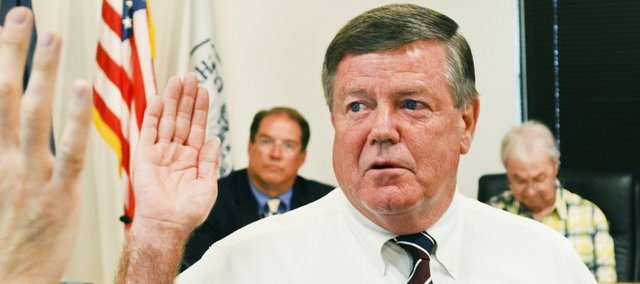 Opinion and amendment
In 1998, former Kansas Attorney General Carla Stovall issued the following opinion about serial communications among public officials:
"A series of meetings each of which involves less than a majority of a quorum of a public body, but collectively totaling a majority of a quorum, at which there is a common topic of discussion of the business or affairs of that body constitutes a meeting for the purposes of the (Kansas Open Meetings Act)."
State law was amended in 2008 by Senate Substitute for House Bill 2947. It defines a meeting under KOMA as interactive communication or meetings in a series that involve "a majority of the membership of the body."
The Johnson County District Attorney's Office is investigating allegations that Shawnee Mayor Jeff Meyers and members of the City Council discussed city business in violation of the Kansas Open Meetings Act.
The investigation was prompted by a July 30 letter to District Attorney Steve Howe from Shawnee resident Tony Lauer.
Lauer attended a July 9 special meeting, during which applicants for appointment to the Ward 2 City Council seat were interviewed. The City Council then voted 4-2 to appoint the mayor's uncle by marriage, Alan Willoughby, to the seat.
Ward 4 council member Michelle Distler, who cast one of the "no" votes, said she did not oppose Willoughby personally. However, she explained, she was "told on (the previous) Thursday that this is who the appointment was going to be," who would make the motion for Willoughby and who would second it.
"I cannot support this, because I cannot be involved with this," said Distler, who added that similar information had circulated prior to the appointment of Ward 1 City Councilman Jim Neighbor to a vacant seat.
Gregg Snell, a Shawnee resident who has been videotaping Shawnee City Council meetings, asked Mayor Meyers about Distler's implication that members of the governing body had discussed Willoughby's appointment outside of a public meeting.
"I have not had a meeting," Meyers responded. "I have had discussions with different council members about applicants."
Under further questioning by Snell, Meyer acknowledged that he had discussed "good candidates" that he was "in favor of," including Willoughby.
Meyers later told The Dispatch he had talked to "two, maybe three" members of the City Council about the appointment process, but he said he did not believe he was violating the Kansas Open Meetings Act because "you can talk to individual council members."
Meyers added that he thought a discussion had to involve "two or more council members" at the same time to fall under the open meetings act.
According to a 1998 opinion from then Kansas Attorney General Carla Stovall, the act also covered one-on-one meetings, in person or by phone, if those meetings deal with the same topic and involve a majority of a quorum. In the case of Shawnee City Council, three members represent a majority of a quorum.
However, the Kansas Legislature amended the law in 2008 to define meetings under the act as those involving "a majority of the membership of the body."
The term "serial communications" has been coined to describe meetings held in a series by phone or email, said Howe. If his investigation determines members of the Shawnee City Council engaged in serial communications involving a majority of the governing body, they could be fined up to $500 each, he said, and "any binding action" resulting from the illegal meeting can be "voidable by the courts."
Earlier this year, Howe's office found that the Gardner City Council had conducted illegal meetings twice last summer to discuss a request from a candidate for city administrator and employee pay ranges. The first issue was discussed through serial emails, the latter during a session that was closed without legal justification.
Howe said he agreed to waive charges against the Gardner officials on the condition they attend training on Kansas Open Meetings Act compliance.
Howe declined to make a statement at this point on whether Shawnee officials appear to have violated the act. But he said his office would issue a press release after a determination is made.
Correction: This post originally reported in error that an open meeting as defined by the Kansas Open Meetings Act must involve only a majority of a quorum.