SM

Northwest class coming together again with help from website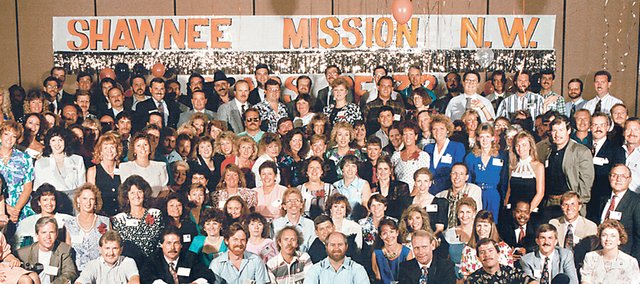 Preparing for the next reunion of the Shawnee Mission Northwest Class of 1972 used to involve a lot of time "sitting around the table and writing envelopes and sending out mail invitations," said Richard Boyer, who was the class' senior vice president.
"I tell you what, you get tired of doing that," he added.
This year, however, organizers of the 40th reunion were able to leave the pen and envelopes out of the process entirely. The reunion of the first class to attend all its high school years at SM Northwest, set for this weekend, is the first to take place since the launching four years ago of smnw72.com. The website centers on the class, its history and connecting with living members.
Created by members Jan Klein, who now lives in Texas, and Dennis "Mac" McDaniel, who lives in Utah, the website's goal was to reinvigorate class participation at reunions, which have been organized about every five years by Boyer and fellow classmate Stacy Smith Miller.
"It was like the interest was waning," said Klein. "Where was everybody? How were you going to connect?"
Address and phone number changes over the years, as well as limited records at the school, contributed to the problem of locating and keeping track of classmates. After observing the decreased attendance at the 35th reunion, Klein set out to find a solution. She reached out to McDaniel, whom she had found on classmates.com, and, with hundreds of miles between them, the pair launched smnw72.com. Through the site, 235 of the class of nearly 600 have been located. The site allows members to create profiles of themselves that include updates and photos. A Cougar photo gallery, video footage from the 25th reunion, historical facts from 1972 and a special section devoted to those classmates who have died can also be found on the site.
The site has allowed organizers to easily and efficiently spread the word about the upcoming reunion, and Klein said about 200 members from across the country had so far confirmed their appearance.
"Most of the work was taken care of this time by having a really nice website that's easy to find, easy to use, very thorough," said Boyer. "My logical thought is if they really want to come to this reunion, they know how to find us."
One major draw to the reunion, Boyer said, certainly is the planned appearance of Merlin Ludwig, the school's first principal, remembered by former students and faculty for his innovative approach to education. Organizers are flying him in, and this will mark his first visit to a SM Northwest class reunion.
The school opened in 1969 as a three-year institution.
"The principal had these ideas about how students could choose for themselves what they needed to do," Boyer recalled. "We had a very much independent study and as long as you were making the grades, you didn't even need to make it to class. … It was a philosophy that the students were number one."
"He was so well-liked," added Boyer, "there are people coming to the reunion just to see him, and I know that there are faculty members that are coming just to see him."
The event this year will be a multi-class reunion — members from the classes of 1970, '71 and '73 are invited — as well as a reunion for the school's original faculty members. A Friday-night icebreaker will kick off the weekend of events, with main events Saturday to include tours of SM Northwest led by current students and an evening of visiting, refreshments and photos at 5:30 p.m. at the Sheraton Overland Park Hotel, 6100 College Blvd.
Klein said it would be more than just a reunion of classmates.
"We were like a mini-family," she said. "And we still are."
More details and ticket information can be found at smnw72.com.