Trampoline park ready for takeoff in Shawnee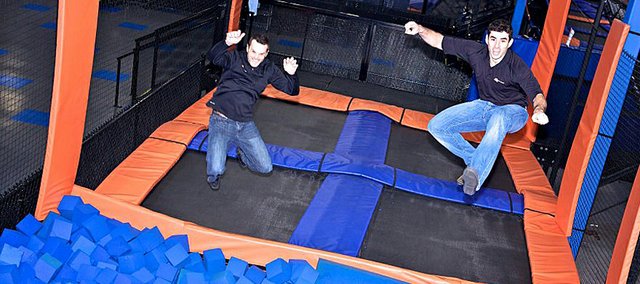 Jobs abound
The new Sky Zone Indoor Trampoline Park in Shawnee will be hiring 60 to 90 employees. Positions will include trampoline court monitors, fitness instructors, cashiers, event hosts and event assistants. Online applications and more information are available at skyzonesports.com/kc.
Shawnee's reputation as a mecca for youth activities is about to get a big bounce.
The Sky Zone Indoor Trampoline Park, which will give the metropolitan area its first taste of a new recreation and fitness trend sweeping the country, is expected to open in late August or early September in 28,000 square feet of the former Hy-Vee store at 6495 Quivira Road.
Kevin Graven, general manager and one of five co-owners of the local franchise, said one factor prompting Sky Zone Kansas City to choose Shawnee as its first trampoline park site was the city's wealth of other youth recreation hotspots.
As examples, he ticked off the Wonderscope Children's Museum, the Little Monkey Bizness indoor amusement center, the PowerPlay Family Entertainment Center and the city's many youth sports venues.
"Shawnee has carved a niche," Graven said, "and that's good for us, because parents have already been trained to bring their kids here."
Graven expects to attract about 200 children's birthday parties a month to the facility, which is one of about 30 in the United States. In addition to the parties, the park will offer Sky Camp, toddler time, foam pits and other attractions for youths.
But make no mistake, the trampolines — 15,000 square feet of them — being installed at the new Sky Zone aren't just for kids, Graven said.
The facility also will offer adult activities such as Skyrobics, an aerobics program that doesn't pound participants' knees and ankles.
Other activities for both youths and adults will include open jumping on a spacious court edged by trampolines fixed at 45-degree angles to maximize blastoffs, SkySlam basketball dunking and, of course, trampoline dodgeball.
Sky Zone, which was launched in Las Vegas in 2004, got a boost from the movie "Dodgeball," which was released the same year. The movie also inspired dodgeball tournaments across the country, Graven said, and the Shawnee facility will host one in late September or early October that will qualify a team to compete for a $25,000 prize in Las Vegas.
Sky Zone got its start in Las Vegas, where founders Rick Platt and his son Jeff Platt rented a warehouse to establish a new hybrid team sport utilizing trampolines to eliminate the height advantage of taller athletes.
The sport didn't take off, Graven said. But flocks of skateboarders started paying to bounce on the trampolines, causing the Platts to head in a different direction.
After perfecting their new concept, the Platts began selling franchises in 2009, and since then, Sky Zone parks have been sprouting across the country.
"It's not a fad," said Graven, who left his job as a finance and insurance executive with Zurich Direct Markets to create a Sky Zone franchise.
An outdoor trampoline park craze swept the nation briefly in the 1960s and included a park the VanLerberg family operated at what is now Shawnee Mission Parkway and Nieman Road.
That trampoline park craze was doomed by the threat of injuries, Graven said. But Sky Zone, he said, is being built on a more stable foundation, which includes safety training for all employees and a patented cable system that safely links trampolines together under the padding.
Graven became familiar with the technology through his best friend, who served as general manager for the original Sky Zone park in Las Vegas. Impressed by the safety features plus the company's appeal to both young and adult clientele, he and his partners decided to begin looking for the best place to open their first Sky Zone.
Another factor that made the Quivira Road site attractive was its 22-foot ceilings, which are optimum for Sky Zone parks but uncommon in retail areas, even among the many vacant big-box stores that have dotted shopping centers nationally since the beginning of the recession in 2007.
"We're going to have one of the best locations in the country," Graven said. "Most of them are in industrial parks."
The Shawnee Planning Commission approved a special-use permit for the trampoline park last December. But according to Graven, it subsequently took months to secure the U.S. Small Business Administration financing needed to help get the trampoline park off the ground, so to speak.
Andrew Nave, executive director of the Shawnee Economic Development Council, said he is excited about Sky Zone's opening, and not just because Nave has been working to repurpose three vacant grocery store spaces in Shawnee.
"That's one of the many benefits, which is encouraging not only for the retail community but also for consumer public, because it instills a sense that the local economy is picking up," Nave said. "But the best part of the story is Sky Zone itself. It's a fascinating concept, and it's going to be a regional draw."